PFC Finance is a financial broker that looks to pair a sole trader or SME seeking funding with a lender that is willing to forward these finances – but does it have good reviews?
PFC Finance has a smaller reach than some brokers, limited to around 60 partner lenders, but this could be considered an advantage – it may lead to connections with smaller businesses that likelier to consider your application on an individual basis, rather than relying on strict criteria.
PFC Finance business loans and finance
Pros and cons of PFC Finance for business finance
| Pros | Cons |
| --- | --- |
| ✓ Quite varied range of products | ✗ No online reviews |
| ✓ No broker fees payable by you as a borrower | ✗ Fewer lending partners than other brokers |
| ✓ Good reputation for customer service and a tailored approach to client care | ✗ By its very nature, working with a broker can take longer than applying for finance directly |
PFC Finance pros and cons
Business loans
PFC Finance will look to pair any business seeking a loan with an appropriate lender. Loans potentially available through PFC Finance include the following:
Commercial loans
Business lending for any commercial purpose, from £5,000 to seven figures, repayable for anywhere from three months to five years. PFC Finance will ask what you need the loan for, and look to find a lender willing to work with you.
VAT and tax loans
If your HMRC bill has taken you by surprise and you are worried that you will not be able to pay on time, PFC Finance will look to pair you with a lender that will cover your bill before you start accruing fines and allow you to make repayments on an installment plan.
Practice finance
Exclusively for businesses that operate in the health and medical sector, PFC Finance will locate specialist loans that allow greater flexibility on cash flow and accommodate substantial expenses such as a practice fit-out.
Asset finance
If you are looking to purchase new apparatus that will help you take your business to the next level or to release and redirect funds tied up in the value of existing equipment, PFC Finance will find the best provider of asset finance for your needs.
Business vehicle finance
PFC Finance will find the best deals available pertaining to vehicle finance for your business, whether that's a single company car that you need on a lease or hire basis, or an entire fleet of vehicles that will help keep your business on the move.
Invoice finance
While it may be faster and more efficient to apply for invoice finance and factor yourself – see invoice factoring – PFC Finance can connect you with a lender that will theoretically be willing to work with your business to release funds from outstanding invoices.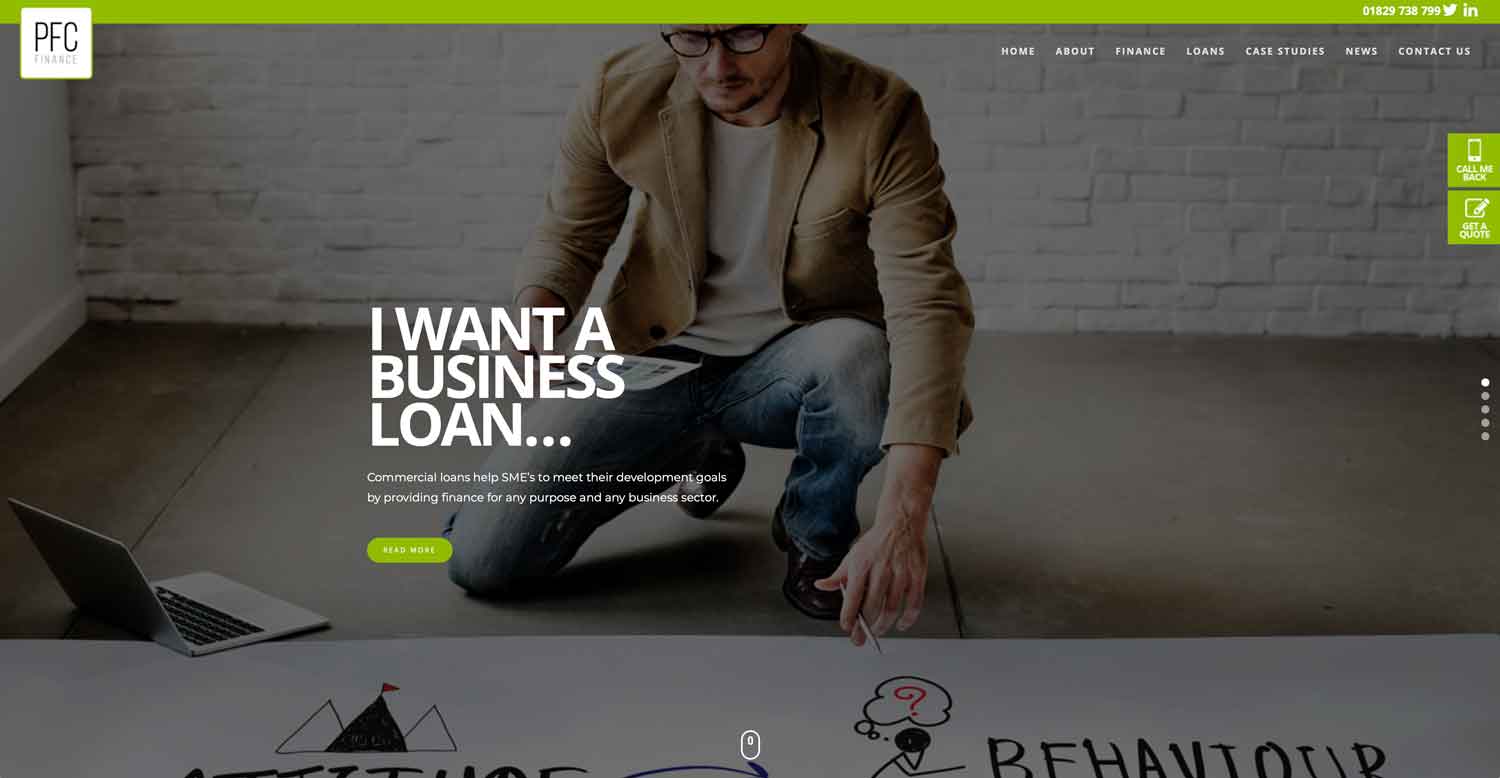 Merchant cash advance
✗ Not available from PFC Finance. See merchant cash advance.
Business credit cards
✗ Not available from PFC Finance. See best business credit cards. 
Commercial mortgages
✗ Not available from PFC Finance. See commercial mortgages.
PFC Finance key information
| | |
| --- | --- |
| Phone number | 01829 738799 |
| App downloads | N/A |
| Website | www.pfcfinance.co.uk |
| Number of branches | N/A |
| FSCS protected? | No |
| Founded | 2014 |
Key information
PFC Finance reviews
| Review platform | Score | Number of votes |
| --- | --- | --- |
| TrustPilot | Not reviewed | N/A |
| Feefo | Not reviewed | N/A |
| Reviews.io | Not reviewed | N/A |
| Smart Money People | Not reviewed | N/A |
| Which? | Not reviewed | N/A |
| Average score | No online reviews | 0 total votes |
PFC Finance reviews and ratings
Business eligibility criteria
PFC does not set criteria for borrowing – that is between you and the lender that PFC pairs you with. PFC Finance will ask some questions about our business and aim to connect you to an appropriate lender, but has no control over whether your application will be accepted.
Business finance alternatives
While other financial brokers, including ABC Finance, Aspire, and Rangwell are available, you may prefer to apply for funding directly through a specialist business lender, thus cutting out the middleman.
Additional considerations
PFC Finance is a member of the National Association of Commercial Finance Brokers (NACFB), the largest trade body for commercial financial brokers in the UK.
FAQ
How do I apply for finance from PFC Finance?
You can fill in a very short form on the PFC Finance website, or call the broker on 01829 738799  for a direct conversation. The latter approach may bear more fruit, as PFC Finance is very customer-focused.
If I borrow from PFC Finance, who supplies the money?
PFC Finance is a broker, not a lender, so they will pair you with a financial institution that will theoretically be willing to loan you money.
How much can I borrow from PFC Finance?
PFC Finance has no control over this – lending caps will need to be discussed with a lender you are connected with.
Will I need to secure a loan from PFC Finance against an investment?
PFC Finance works with lenders that offer both secured and unsecured loans. If you are not a homeowner, make this clear to PFC Finance so nobody wastes their time on an ineligible application. 
Will PFC Finance charge me a fee if I make a successful loan application?
No, PFC Finance does not take a fee from borrowers. The lender may pay PFC a fee for recommending you if your application is successful.
Is PFC Finance regulated?
Yes, the parent company of PFC Finance, The Practice Loan Company PLC, is fully regulated by the FCA.