The tagline of Wise is "money without borders," which should make it clear what this provider specialises in – especially when we consider that it was formerly known as "Transferwise."
Compare business bank accounts
What are you looking for?
In partnership with
Tide

Co-Op Business Banking
✓ Business Current Account
✓ Online, App & High Street Banking
✓ Quick & Easy Application Process


HSBC Business Banking
✓ Business Current Account
✓ In-Branch, Online & App Banking
✓ FSCS Protected


Metro Business Banking
✓ Business Current Account
✓ High Street Presence
✓ FSCS Protected


Mettle Business Banking
✓ Business Bank Account
✓ Online & App
✓ Quick & Easy Application Process


Monzo Business Banking
✓ Business Current Account
✓ Dedicated mobile app experience
✓ FSCS Protected


Tide Business Bank Accounts
✓ Free, Plus, or Pro Account
✓ iOS & Android Mobile App
✓ Upload & Auto-Match Receipts


Virgin Money
✓ Business M Account
✓ In-Store, Online & App Banking
✓ Insights & Forecasting Platform

Wise allows business customers to send and receive funds in over 50 different currencies, and even run a payroll overseas if that is a service your business requires.
Wise does not offer the cheapest exchange rates on the market but the fees remain pretty competitive, and this is among the best-known names in the industry so you're likely to enjoy the trust of your international trading partners.
Wise business banking services
Pros and cons of Wise for business services
| Pros of Wise | Cons of Wise |
| --- | --- |
| ✓ Send and receive funds in multiple currencies | ✗ Exchange rates are competitive but not typically the cheapest on the market |
| ✓ No set-up or monthly fees | ✗ Fees apply to transactions |
| ✓ Excellent and extensive online reviews | ✗ No overdraft facility or other lending streams |
| ✓ Offers a debit card attached to your balance | ✗ Not FSCS protected |
Wise business banking pros and cons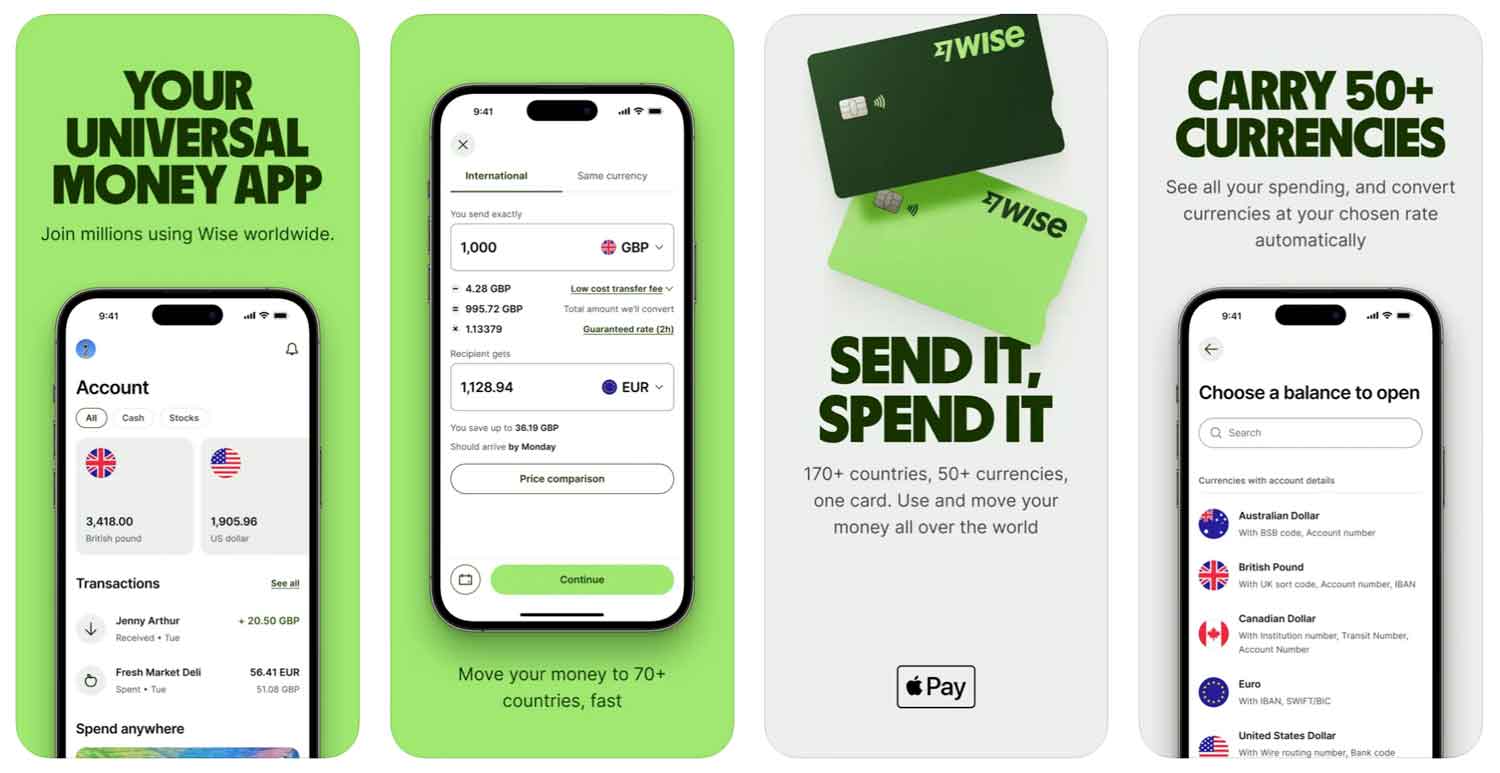 Business current accounts
If you open a Wise business account, you will automatically be able to hold funds in 50 different international currencies. There are no fees attached to opening or maintaining a Wise account in terms of subscription charges, but you will be charged for all your transactions.
The charge for sending money, domestically or internationally, will vary according to the currency in play – fees start at 0.41% of the total transaction value. Currency conversions are charged at mid-market rate and typically held for 48 hours.
You can also apply for a Wise debit card to spend your Wise balance anywhere in the world that accepts MasterCard. This card costs £3 as a one-off expense, with no monthly fees to follow. You can spend up to £200 on this card in a maximum of two transactions before fees apply. These fees will be 1.75% of the transaction value, with ATM withdrawals attracting an additional cost of 50p.
Wise is not a bank, so your funds will not be protected by the FSCS. If this concerns you, maintain a separate bank account and transfer funds from your Wise account to a more secure location.
Business overdrafts
✗ Not offered by Wise. See best business overdrafts.
Business savings accounts
✗ Not offered by Wise. See best business savings accounts.
Wise at a glance
| | |
| --- | --- |
| Phone number | 020 3695 0999 |
| App downloads | iOS; Android |
| Website | www.wise.com/gb/business |
| Number of branches | N/A |
| FSCS protected? | No |
| Founded | 2011 |
Key information
Other business finance products
Wise business customers can also run payroll for up to 1,000 overseas employees, charged at a set exchange rate depending on the exchange rate related to your currency of choice.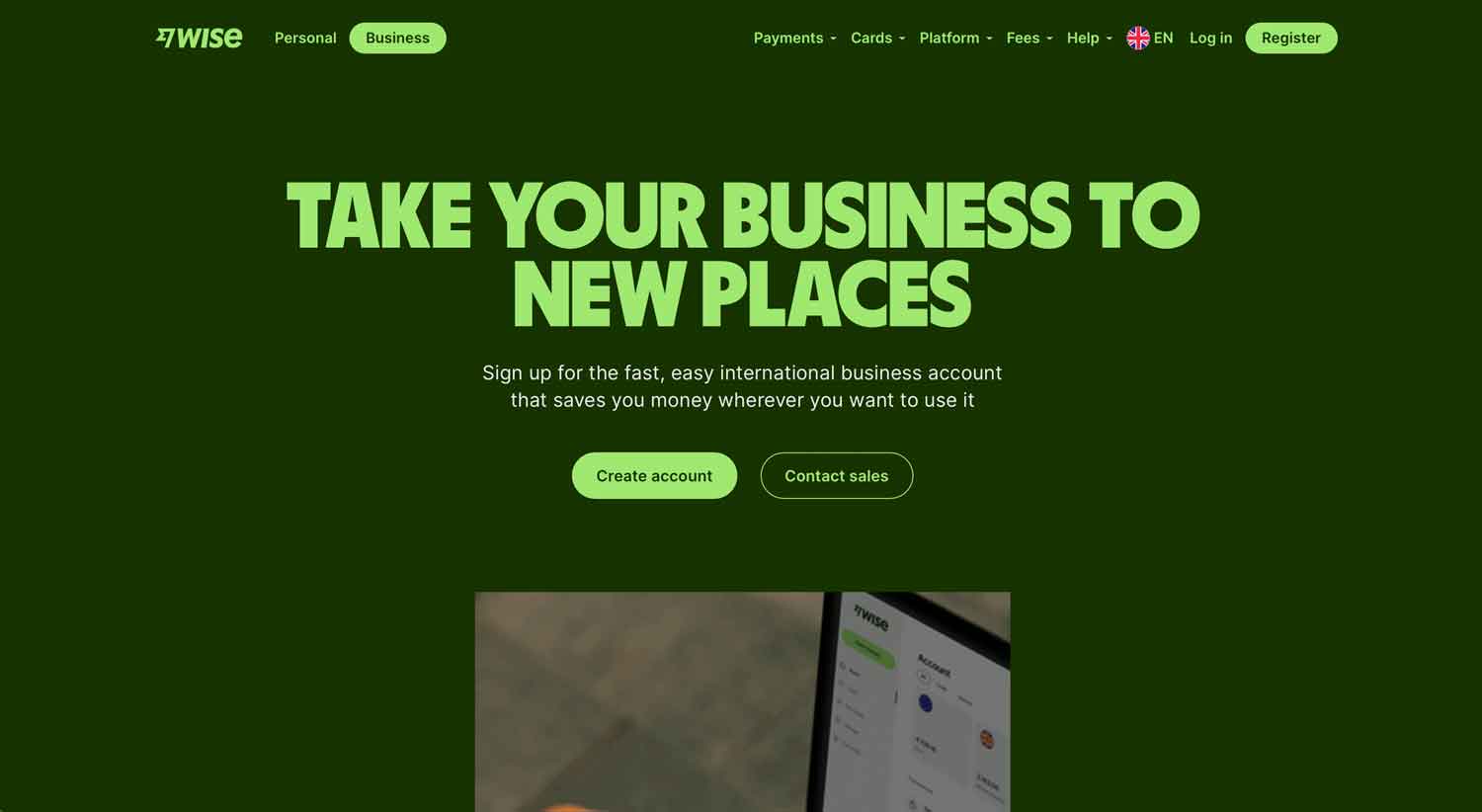 Wise reviews
What are other business banking customers saying about Wise?
| Review platform | Score | Number of votes |
| --- | --- | --- |
| TrustPilot | 4.4/5 | 186,242 |
| Feefo | Not reviewed | N/A |
| Reviews.co.uk | Not reviewed | N/A |
| Smart Money People | 4.61/5 | 71 |
| Which? | Not reviewed | N/A |
| Average score | 4.505/5 | 186,313 |
Wise business banking reviews and ratings
Wise eligibility criteria
Wise is fairly relaxed about who opens a business account, but like many e-money providers, Wise does not wish to work with high-risk business models and will seek reassurances that you will not be using international transfers for any legally or ethically questionable purpose.
You will need to provide information about your business and documents that verify your identity and business standing and wait for a response. This could take as long as 10 days, but most accounts are up and running within 3 days – sometimes even mere hours.
Wise finance alternatives
Revolut and PayPal are the closest direct competitors to Wise, though if you handle a great deal of overseas currency, you may prefer a more specialist service provided by the likes of 3S Money, Silverbird, or Airwallex. There are other international currency specialists out there, but many of them are not available to UK businesses.
Additional considerations
Wise has enjoyed a recent influx of custom thanks to concerns over the security of funds held by Silicon Valley fintech companies. Wise was already a market leader, but this will surely bolster its standing and reputation even further.
FAQ
Is Wise a proper bank?
No, Wise is not technically a bank. It is a financial technology company that provides transaction and currency services to individuals and businesses. Wise works with major banks around the world. However, it does not have its own banking license or provide any banking products itself.
How to open a Wise business account?
You can open a Wise business account in just a few steps. All you need to do is fill out an online registration form and provide some basic information about your company. After that, you'll be able to start using the services provided by Wise. You may also have to verify your identity with documents such as your passport.
What fees does Wise charge for its business accounts?
Wise generally does not charge any fees for its business accounts. However, there may be some additional costs associated with certain services, such as foreign exchange fees. You should check the full list of fees before signing up for an account to make sure you understand all the charges that may apply.
What services does Wise offer to businesses?
Wise offers a range of services for businesses, such as multi-currency accounts, integrated payments and invoicing tools, international money transfers, and foreign exchange. Wise also provides some additional features such as bookkeeping software integration, automated payments scheduling, real-time currency conversion and more.
What types of payments does Wise accept?
Wise accepts a range of payment methods, including bank transfers, debit cards, and credit cards. It also offers support for digital wallets such as Apple Pay and Google Pay.