Revolut is one of the great success stories of the British fintech industry, growing in popularity and reputation to the point that even the British government namechecks this digital business as an inspiration.
Compare business bank accounts
What are you looking for?
In partnership with
Tide

Co-Op Business Banking
✓ Business Current Account
✓ Online, App & High Street Banking
✓ Quick & Easy Application Process


HSBC Business Banking
✓ Business Current Account
✓ In-Branch, Online & App Banking
✓ FSCS Protected


Metro Business Banking
✓ Business Current Account
✓ High Street Presence
✓ FSCS Protected


Mettle Business Banking
✓ Business Bank Account
✓ Online & App
✓ Quick & Easy Application Process


Monzo Business Banking
✓ Business Current Account
✓ Dedicated mobile app experience
✓ FSCS Protected


Tide Business Bank Accounts
✓ Free, Plus, or Pro Account
✓ iOS & Android Mobile App
✓ Upload & Auto-Match Receipts


Virgin Money
✓ Business M Account
✓ In-Store, Online & App Banking
✓ Insights & Forecasting Platform

Offering a range of services for sole traders and SMEs, Revolut is especially effective if you conduct a significant amount of trade overseas, and unlike many financial institutions, Revolut supports cryptocurrency trading.
Revolut is not yet a bank, so it does not offer FSCS protection, but the company is in the final stages of applying for a banking license, suggesting that Revolut will be a major player in the financial sector for many years to come.
Revolut business banking services
Pros and cons of Revolut for business services
| Pros of Revolut | Cons of Revolut |
| --- | --- |
| ✓ Send and receive funds in multiple currencies | ✗ Free accounts are limited – you'll likely need to pay a monthly fee |
| ✓ Accounts are quick to set up with no credit checks | ✗ Limits on how many transactions you can make in a single month, especially overseas |
| ✓ Sliding scale of pricing | ✗ No overdraft facility or other lending streams |
| ✓ Excellent online reviews | ✗ Not currently FSCS protected |
Revolut business banking pros and cons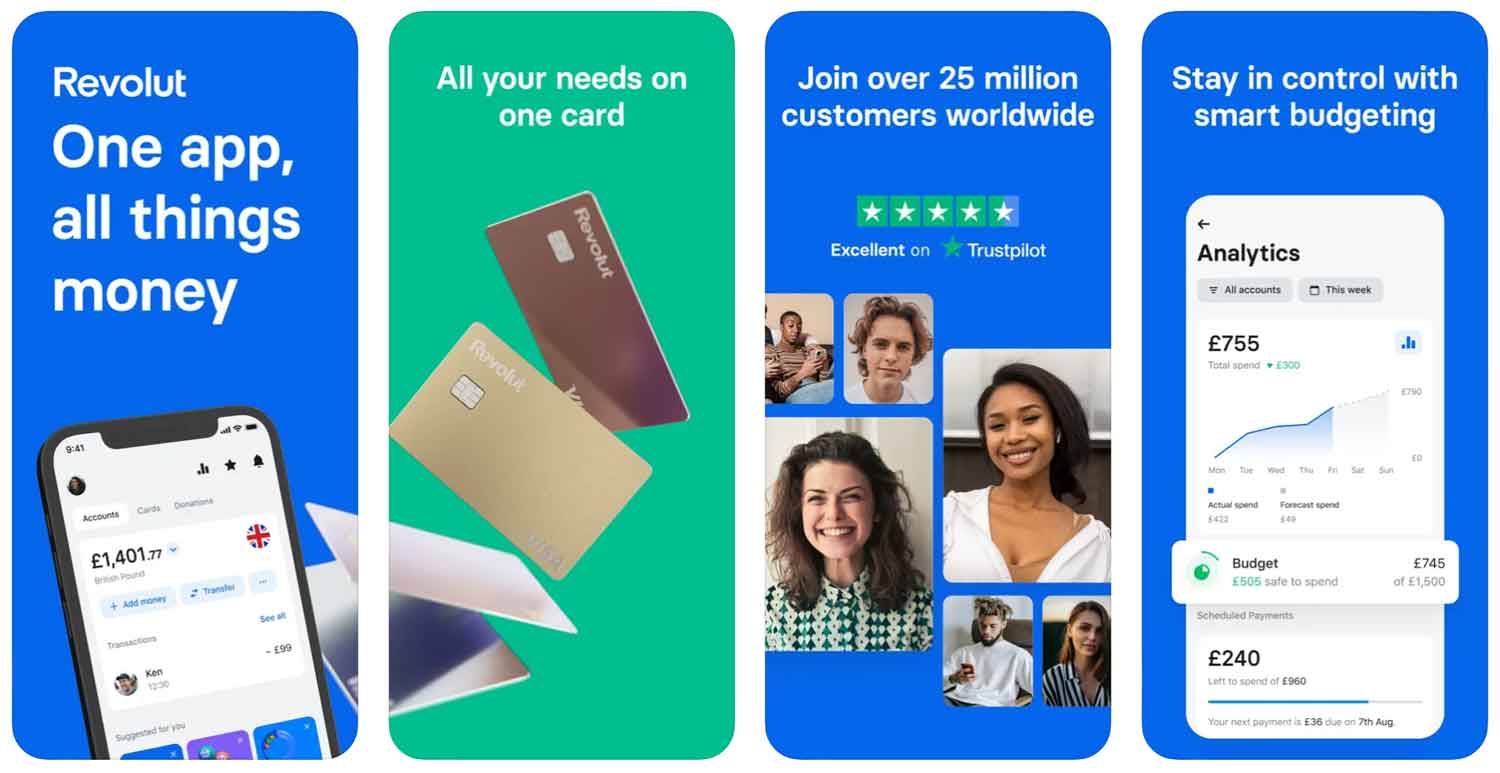 Business current accounts
A Revolut business account can usually be approved and up and running within 10 minutes if you provide the appropriate documentation. Revolut does not run a credit check on business account applicants.
Revolut business accounts come in two forms, designed for freelancers and sole traders of a business:
You will be able to hold a balance and trade in up to 30 different currencies at no charge, with a further 120 currencies available – you will just need to exchange any income into £ upon receiving funds.
All these accounts provide a plastic debit card attached to your Revolut balance, and a spending cap can be applied to this card. You will also be able to accept incoming funds from customers using a debit or credit card for a small fee, and can raise invoices within the Revolut app.
How much you will pay for your Revolut business account depends on your business structure and the services that you require.
Freelancer accounts
Revolut offers three price points for freelancers and sole traders that wish to open a business account. 
The basic account has no monthly fee, but you will need to pay for a range of microtransactions. This account offers 5 free local payments, after which a 20p fee applies to all outgoing transactions, and you'll pay an exchange rate of 0.4% for any FOREX currency exchanges.
Revolut Professional costs £7 per month, but you will enjoy 20 free domestic transfers, 5 free international payments, and can exchange up to £5,000 in foreign currencies without charge.
Revolut Ultimate is £25 per month, and offers 100 free domestic transfers, 10 free international payments, and £10,000 of foreign currency exchange without a fee. These paid tiers also offer further rewards.
Company accounts
The pricing tiers and rewards offered to Revolut company accounts come in four forms. The free account mirrors that of a freelancer – you will pay £3 for any international transfer, 20p for any domestic transfer once you have completed 5, and 0.4% on currency exchange. You can also exchange cryptocurrencies at a rate of 1.99%.
The Revolut Grow account is priced at £25 per month. This account offers 1 free metal debit card, 10 free international payments, 100 free domestic transfers, £10,000 of free international currency exchange, and a crypto exchange range of 0.99%.
Larger companies can apply for the Scale account at £100 per month. This offers 2 metal debit cards, 50 free international payments, 1,000 free domestic transfers, £50,000 of free international currency exchange, and a crypto exchange range of 0.99%. If you wish to discuss a custom account at a bespoke price point, this option is also open.
Business overdrafts
✗ Not offered by Revolut. See best business overdrafts.
Business savings accounts
✗ Not offered by Revolut on business accounts. See best business savings accounts.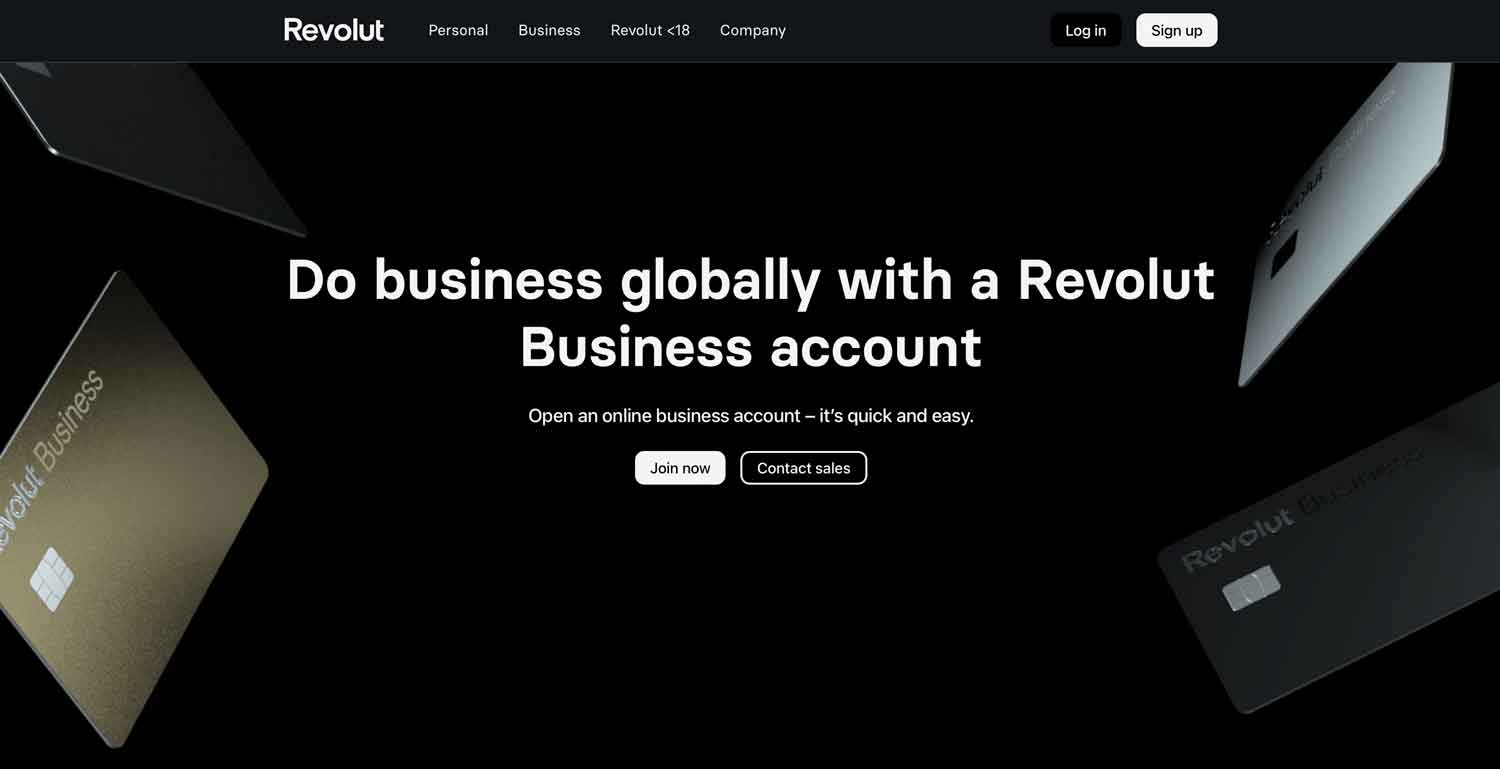 Revolut at a glance
| | |
| --- | --- |
| Phone number | 020 3322 8352 |
| App downloads | iOS; Android |
| Website | www.revolut.com/business |
| Number of branches | N/A |
| FSCS protected? | No |
| Founded | 2015, London |
Key information
Other business finance products
Revolut business customers can also run payroll through the app if required, charged at £3 per head.
Revolut reviews
What are other business banking customers saying about Revolut Business?
| Review platform | Score | Number of votes |
| --- | --- | --- |
| TrustPilot | 4.3/5 | 127,554 |
| Feefo | Not reviewed | N/A |
| Reviews.co.uk | Not reviewed | N/A |
| Smart Money People | 4.74/5 | 507 |
| Which? | Not reviewed | N/A |
| Average score | 4.52/5 | 128,061 |
Revolut business banking reviews and ratings
Business eligibility criteria
Revolut does not run a credit check when you apply for a business account, so any historical issues with making payments will not necessarily disqualify you from opening an account. You'll just need to answer some questions about your trading practices and business model and assure Revolut that you will not be using the account for anything untoward, as well as provide proof of your identity and address.
Business finance alternatives
The ideal alternative to Revolut depends on what appeals about this facility. If you wish to trade in multiple currencies, consider Wise, Airwallex, Silverbird, or 3S Money.
If you're just looking for an online financial institution, there are plenty of challenger banks to choose from – Starling Bank is arguably the pick of the bunch, but Mettle, Countingup, Tide, and Monzo are all also worthy of consideration.
Additional considerations
While Revolut does not have a banking license at the time of writing, this is likely to change in the immediate future. This will allow Revolut to provide FSCS protection and broaden its range of products offered to business customers.
FAQ
Is Revolut a proper bank?
No, Revolut is not a proper bank. It's a digital banking platform and money management tool that helps businesses manage multiple currencies, track spending and collaborate with other users around the world in real-time. The company is authorised by the Financial Conduct Authority (FCA) to provide certain payment services but does not hold a banking licence. This means that Revolut Business customers are not protected by the Financial Services Compensation Scheme in the same way as traditional banks. However, Revolut does have access to interbank rates and users can deposit funds into their account for free up to certain limits.
How to open a Revolut business account?
Opening a Revolut business account is easy and takes just a few minutes. All you need to do is enter your company information, select an account type, verify your identity and agree to the terms of service. Once done, you will have access to the Revolut Business platform where you can start managing money right away.
What fees does Revolut charge for its business accounts?
Revolut offers different pricing plans depending on the features you need. The basic plan is free and allows companies to manage up to €20K in transactions per month, which should be enough for most small businesses. However, Revolut does charge some fees for additional services such as wire transfers and currency exchange.
What services does Revolut offer to businesses?
Revolut offers a range of services to businesses, including multi-currency accounts, budgeting features, real-time exchange rates and fast payments. The platform also provides tools for tracking spending in multiple currencies, as well as integration with other financial software such as QuickBooks. Additionally, Revolut also offers virtual cards and prepaid debit cards that can be used for online and offline purchases. Lastly, Revolut also offers a business lending service so that companies can borrow money from its platform.
What types of payments does Revolut accept?
Revolut accepts payments from a range of sources, including bank transfers, debit cards and credit cards. Additionally, the platform also supports cryptocurrencies such as Bitcoin and Ethereum. For those who prefer to pay with cash, Revolut also offers prepaid debit cards that can be used at ATMs. Finally, the platform also allows customers to make contactless payments for goods and services using their smartphones.