Thanks to the rise of the internet, the world is shrinking and more businesses and sole traders trade in overseas currencies. This can become expensive if your company is constantly exchanging money into GBP at high rates. Airwallex is a service that allows you to run multiple business current accounts in an array of different currencies, drastically reducing administration and potentially leading to fewer expenses – especially as Airwallex does not charge any monthly fees.
Compare business bank accounts
What are you looking for?
In partnership with
Tide

Co-Op Business Banking
✓ Business Current Account
✓ Online, App & High Street Banking
✓ Quick & Easy Application Process


HSBC Business Banking
✓ Business Current Account
✓ In-Branch, Online & App Banking
✓ FSCS Protected


Metro Business Banking
✓ Business Current Account
✓ High Street Presence
✓ FSCS Protected


Mettle Business Banking
✓ Business Bank Account
✓ Online & App
✓ Quick & Easy Application Process


Monzo Business Banking
✓ Business Current Account
✓ Dedicated mobile app experience
✓ FSCS Protected


Tide Business Bank Accounts
✓ Free, Plus, or Pro Account
✓ iOS & Android Mobile App
✓ Upload & Auto-Match Receipts


Virgin Money
✓ Business M Account
✓ In-Store, Online & App Banking
✓ Insights & Forecasting Platform

Just be warned that it is not easy to open an account with Airwallex, so it is advisable to have a back-up plan in mind.
Airwallex business banking services
Pros and cons of Airwallex for business services
| Pros of Airwallex | Cons of Airwallex |
| --- | --- |
| ✓ Business accounts in multiple currencies | ✗ Picky about who is approved for an account |
| ✓ No monthly fees | ✗ App is a little limited |
| ✓ Option for virtual cards rather than plastic | ✗ No ATM withdrawal facility |
| ✓ Compatible with Xero | ✗ Not FSCS protected |
Pro and cons of Airwallex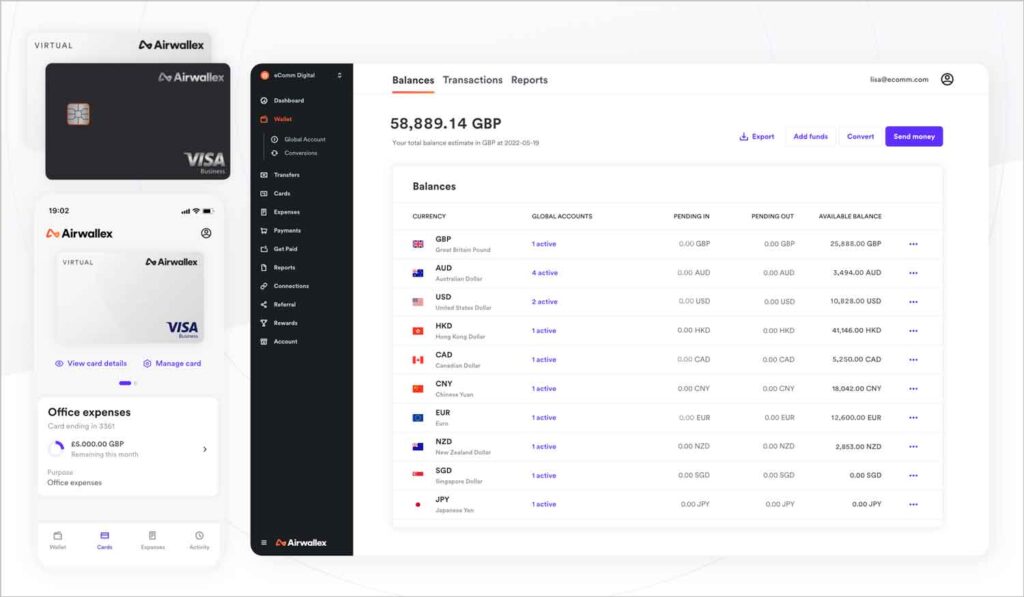 What's new with Airwallex in November 2023?
Airwallex announced strong growth in Singapore, with 13x year-on-year growth in the asian city state.
Business current accounts
Airwallex allows a business or sole trader to hold funds in over 170 different currencies in business accounts assigned to this currency. Eight major currencies will not charge you a fee to convert to £GBP, and there are no monthly fees to run and maintain your Airwallex account.
You will be provided with a simple link that can be sent to customers and clients, who will make the payment which then sits within your relevant Airwallex account until withdrawn to a business bank account or spent using an Airwallex virtual or physical payment card.
Business overdrafts
✗ Not available through Airwallex. See best business overdrafts.
Business savings accounts
✗ Not available through Airwallex. See best business savings accounts.
Airwallex at a glance
| | |
| --- | --- |
| Phone number | 0808 196 7574 |
| App downloads | iOS; Android |
| Website | www.airwallex.com/uk/business-account |
| Number of branches | N/A |
| FSCS protected? | No |
| Founded | 2015, Melbourne |
Airwallex key information
Other business finance products
Airwallex also provides virtual or physical multi-currency cards that can be used for purchases domestically or overseas. Spending limits can be assigned to these cards so traveling staff do not exceed pre-agreed costs. These cards are also compatible with Apple Pay and Google Pay. Be aware that Airwallex cards cannot be used to withdraw cash from an ATM.
Airwallex reviews
What are other business banking customers saying about Airwallex?
| Review platform | Score | Number of votes |
| --- | --- | --- |
| TrustPilot | 3.8/5 | 470 |
| Feefo | Not reviewed | N/A |
| Reviews.co.uk | Not reviewed | N/A |
| Smart Money People | 5/5 | 5 |
| Which? | Not reviewed | N/A |
| Average score | 4.4/5 | 475 |
Airwallex reviews and ratings
Business eligibility criteria
You do not need to be UK-based to open an Airwallex account. You can also use this service if you are based in Australia, the USA, the Netherlands, Malaysia, Singapore, or Hong Kong. You will need to be over 18 and prove your business ownership, or provide evidence of your taxpayer status as a sole trader.
Airwallex is very selective about who can open an account. This leads to a lengthy onboarding process, and your business may be declined if it is considered high risk. Provide as much information as possible that reassures Airwallex that your business model is legitimate and that the account with not be used for financial malpractice to avoid your application being declined or closed without notice.
Business finance alternatives
Airwallex is a relatively new venture so not all its features are yet active, and as we have discussed, will not accept every application that comes it's way. If you are declined for an Airwallex account, do not waste your time waiting for an explanation – this may not be forthcoming. Look at alternatives like Wise, Revolut, or 3S Money.
Additional considerations
Although Airwallex is regulated, it is not a bank. This means you will not be afforded the same protections as you would by a more traditional provider.
FAQ
Is Airwallex a proper bank?
No, Airwallex is not a traditional bank. It is a financial services platform that specialises in providing cross-border payments and foreign exchange solutions for businesses. The company does not offer deposit accounts, debit cards or loans like a traditional bank would. Instead, it provides a suite of digital tools such as real-time currency conversions, international money transfers and automated compliance checks. Airwallex also has partnerships with traditional banks and payment institutions to facilitate its services. These partners include Visa, Mastercard, American Express and UnionPay. As such, Airwallex is not a bank in the traditional sense but more of a financial technology (fintech) firm that provides innovative solutions for businesses.
How to open an Airwallex business account?
Opening an Airwallex business account is quick, easy and free. All you need to do is go to the Airwallex website, fill out a simple registration form and upload supporting documents such as your company's registration certificate, corporate bank statement and proof of identification. Once these documents have been verified by the Airwallex team, your account will be activated within 24 hours and you can begin using the platform immediately.
What fees does Airwallex charge?
Airwallex offers competitive rates and fees depending on the type of service you're using. The fees for foreign exchange transactions are usually around 1% of the total amount being converted, with a minimum fee of £5. Airwallex also charges a flat fee for international money transfers which is currently 0.6% (with a minimum fee of £5). Other services such as automated compliance checks may also attract additional fees. Overall, Airwallex's rates and fees are highly competitive with other providers in the market.
What services does Airwallex offer?
Airwallex offers a wide range of services to help businesses manage their international financial operations. The company's core product is foreign exchange and money transfers, but it also provides automated compliance checks, multi-currency accounts, real-time currency conversions, digital invoicing and more.
What types of payments does Airwallex accept?
Airwallex accepts payments in more than 150 currencies from over 200 countries and regions. The company also has partnerships with Visa, Mastercard, American Express and UnionPay to facilitate its services. In addition, Airwallex also offers support for alternative payment methods such as Apple Pay and Alipay.