Shawbrook Bank was something of a novelty when it was first formed, as a division of the Royal Bank of Scotland, as an online-only savings specialist.
Compare business bank accounts
What are you looking for?
In partnership with
Tide

Co-Op Business Banking
✓ Business Current Account
✓ Online, App & High Street Banking
✓ Quick & Easy Application Process


HSBC Business Banking
✓ Business Current Account
✓ In-Branch, Online & App Banking
✓ FSCS Protected


Metro Business Banking
✓ Business Current Account
✓ High Street Presence
✓ FSCS Protected


Mettle Business Banking
✓ Business Bank Account
✓ Online & App
✓ Quick & Easy Application Process


Monzo Business Banking
✓ Business Current Account
✓ Dedicated mobile app experience
✓ FSCS Protected


Tide Business Bank Accounts
✓ Free, Plus, or Pro Account
✓ iOS & Android Mobile App
✓ Upload & Auto-Match Receipts


Virgin Money
✓ Business M Account
✓ In-Store, Online & App Banking
✓ Insights & Forecasting Platform

Shawbrook Bank has since established itself as an independent entity, and while this provider does not offer current accounts to business customers, it is an FSCS-secured location for company savings, as well as providing a range of lending streams.
Shawbrook Bank plays its cards close to the chest when it comes to the interest related to lending so think carefully before approaching in this regard, but there is no denying that this is a market leader in terms of business savings.
Shawbrook Bank business banking services
Pros and cons of Shawbrook Bank for business services
| Pros of Shawbrook Bank | Cons of Shawbrook Bank |
| --- | --- |
| ✓ Competitive interest rates on savings | ✗ No current accounts |
| ✓ Excellent online reviews | ✗ No branch support |
| ✓ Wide selection of savings options that will suit any business need | ✗ Lack of transparency surrounding interest on lending streams |
| ✓ FSCS protected | ✗ Minimum savings of £10,000 |
Shawbrook Bank business banking pros and cons
Business current accounts
✗ Shawbrook Bank does not offer current accounts, just savings options and business lending. See best business bank accounts.
Business overdrafts
✗ Not available through Shawbrook Bank. See best business overdrafts.
Business savings accounts
Shawbrook Bank offers three types of business savings accounts:
Shawbrook Easy Access Account
Save between £1,000 and £85,000 and access your funds at any time. Interest is calculated daily and paid monthly at an AER of 2.08%, or annually at a rate of 2.10%.
Shawbrook Notice Account
If you are saving between £5,000 and £2,000,000 and do not need immediate access to your money, a notice account may be of interest. Shawbrook Bank offers a 45-day notice account at an AER of 0.90%, or a 100-day notice account at an AER of 1% (both interest rates are variable.) Interest is calculated daily and paid monthly or annually – the AER is identical either way.
Shawbrook Fixed Rate Deposit
A fixed rate savings deposit account is where Shawbrook Bank really shines in terms of interest. A one-year bond pays interest at an AER of 3.75% upon maturity, while a two-year bond offers 4.15% per year on your savings. As with a notice account, the minimum deposit for a fixed term bond is £5,000, and the maximum is £2,000,000.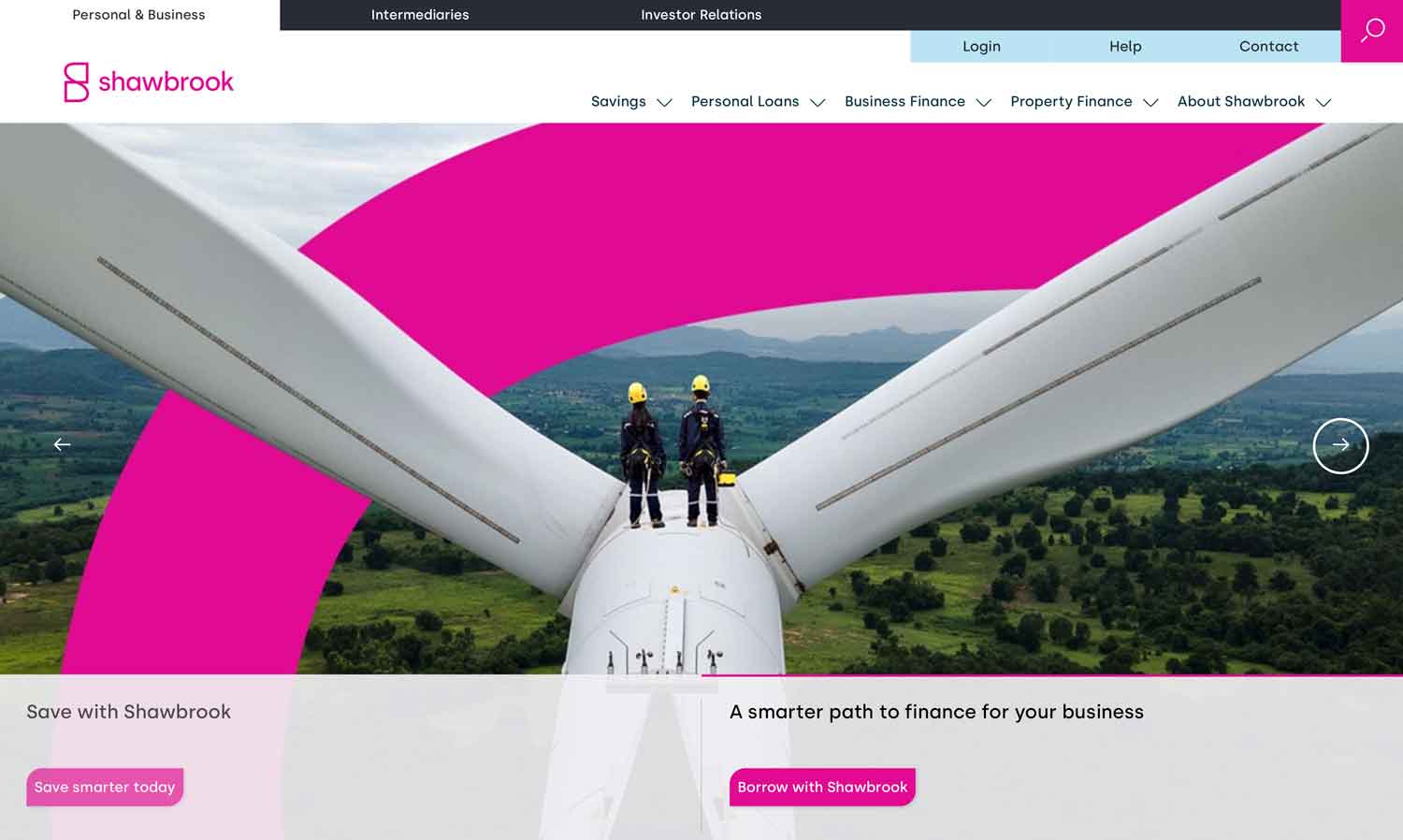 Shawbrook Bank at a glance
| | |
| --- | --- |
| Phone number | 0345 266 6611 |
| App downloads | N/A |
| Website | www.shawbrook.co.uk |
| Number of branches | N/A |
| FSCS protected? | Yes |
| Founded | 2011 |
Key information
Shawbrook Bank business loans and finance
Beyond business savings, Shawbrook Bank also provides lending streams to business customers:
Shawbrook Asset Finance
If you need to make a substantial investment in machinery or apparatus for your business, Shawbrook Bank offers a range of asset finance products to assist. You can ask Shawbrook to lend you the money for the asset and repay the bank in installments, have Shawbrook purchase the asset and lease it to you on a monthly basis (the option to purchase will be available at the end of a lease,) or refinance existing assets to release equity.
Shawbrook Corporate Lending
If you are looking to expand your business interests, you may be eligible for corporate lending of up to £35,000,000 from Shawbrook Bank which enables you to buy out a competitor or restructure your company. See best business loans.
Shawbrook Mortgage Lending
Shawbrook Bank has a range of commercial mortgage products open to business customers. This could include the purchase of buy-to-let property as an investment vehicle, large-scale commercial investment and development financing, or even a second-charge mortgage on a property you own to act as a secured loan and release substantial funds.
Shawbrook Bridging Loans
Primarily designed for property purchases but available for any legal purpose, a bridging loan from Shawbrook Bank will permit you to borrow a substantial sum (anywhere between £50,000 and £15,000,000) against incoming revenue for anywhere up to 24 months.
Shawbrook Bank reviews
What are other business banking customers saying about Shawbrook Bank?
| Review platform | Score | Number of votes |
| --- | --- | --- |
| TrustPilot | 4.6/5 | 5,977 |
| Feefo | Not reviewed | N/A |
| Reviews.co.uk | Not reviewed | N/A |
| Smart Money People | 4.78/5 | 707 |
| Which? | Not reviewed | N/A |
| Average score | 4.69/5 | 6,684 |
Shawbrook Bank reviews and ratings
Shawbrook Bank business eligibility criteria
Any UK-based sole trader or SME owner that can verify their identity and address will be welcome to save with Shawbrook Bank. Lending will require a more detailed analysis of your unique financial circumstances, and the industry that you operate within – Shawbrook has dedicated lending streams for particular services.
Business finance alternatives
Shawbrook Bank offers pretty competitive savings accounts, but you may wish to compare the offer with other online-only savings specialists like Aldermore, OakNorth, Redwood Bank, and Allica Finance.
If you would prefer more straightforward and transparent business lending, turn to a high street bank that will lay its cards on the table from the off when it comes to interest and repayment terms.
Additional considerations
Shawbrook Bank has recently introduced new systems and policies through unique coding to speed up the process of lending applications. It is believed this will benefit business customers that are seeking financial aid from this lender.
FAQ
Is Shawbrook Bank a proper bank?
Yes, Shawbrook Bank is a fully regulated UK bank. It has been authorised by the Prudential Regulation Authority and regulated by the Financial Conduct Authority and the Prudential Regulation Authority since 2013. As such, it meets all regulatory requirements set out by the Financial Services and Markets Act 2000.
How to open a Shawbrook Bank business account?
You can open a business account with Shawbrook Bank by completing the application form and submitting it via an accredited introducer or directly to the Bank. You will also need to provide necessary documents such as proof of identity, address, and financial information which will be verified to determine your eligibility for an account. Once your application has been approved, you'll be issued a business banking account with Shawbrook Bank.
What fees does Shawbrook Bank charge for its business accounts?
The fees for a Shawbrook Bank business account depend on the type of account you open as well as the services you opt for. Generally speaking, there are no monthly or annual fees associated with the basic business banking accounts offered by Shawbrook Bank. However, if you opt for additional features such as overdrafts and access to other banking facilities, you may be subject to additional charges.
What services does Shawbrook Bank offer to businesses?
Shawbrook Bank offers a range of services to businesses, including business savings accounts, current accounts, and loans. The bank also provides a range of online banking tools and payment solutions such as Faster Payments, BACS transfers, and Direct Debits.
What types of payments does Shawbrook Bank accept?
Shawbrook Bank accepts payments from debit cards, credit cards, and direct debits. The bank also supports various payment options such as Apple Pay, Google Pay, and PayPal.