TakePayments (formerly Payzone) is a payment service provider based in the UK. It caters to small and medium-sized businesses, offering a range of payment processing solutions that are not only secure but also simple to integrate and use. The company is committed to helping businesses accept payments in various ways, including face-to-face, over the phone, and online.
Compare options for taking card payments
This article will delve into the specifics of what TakePayments offers, along with its pricing, comparisons, and reviews.
Headline numbers
Over 30,000 businesses use TakePayments.
Available in 70+ countries.
Average first response time to support requests is less than 2 hours.
TrustPilot rating of 4.5 stars from over 5000 reviews.
Key information
| Information Type | Details |
| --- | --- |
| Founded (date, location) | 1989, UK |
| Website URL | www.takepayments.com |
| Phone number | 08082 393254 |
| FSCS protected? | No |
| FCA regulated? | Yes |
Key information
Pros and cons of TakePayments
Pros
Flexible solutions: TakePayments offers a range of products designed to meet different business needs. Whether you're a brick-and-mortar store needing to process face-to-face payments, an e-commerce business accepting online transactions, or even a remote service provider needing phone payments, TakePayments has a solution.
No monthly rental fees: Unlike some competitors, TakePayments does not charge monthly rental fees for its card machines.
Quick setup: TakePayments promises a quick setup, usually within 3 days, and provides excellent customer service throughout the process.
Integrated payments: The company offers integrated payments, making it easier for businesses to synchronise their payment data with their existing systems.
Cons
No FSCS protection: TakePayments is not protected by the Financial Services Compensation Scheme (FSCS), which might be a consideration for businesses looking for additional financial security.
Contracts: Though it's standard in the industry, businesses should note that TakePayments does require a contract, usually 12 months.
International charges: While TakePayments operates globally, businesses making international transactions may incur additional charges.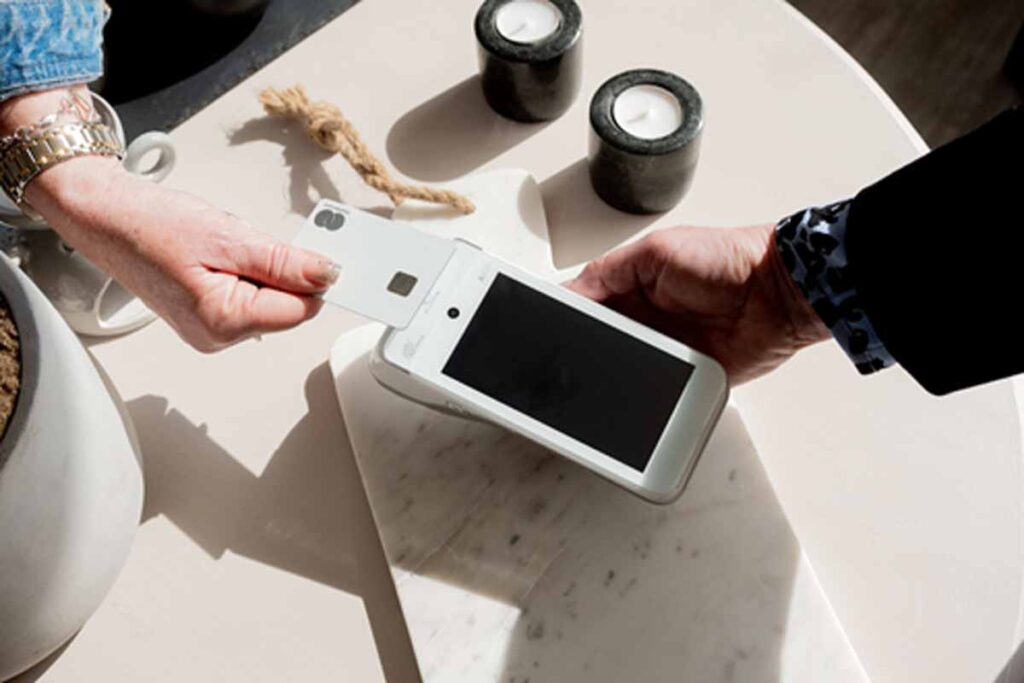 TakePayments products and services
Card machines
TakePayments offers a range of card machines including countertop, portable and mobile options. These machines come with no monthly rental fees and are set up for contactless payments, including Apple Pay and Google Pay.
Online payments
This service allows businesses to accept payments online. TakePayments offers an online payment gateway, pay by link and online invoicing solutions, along with integrated payments for seamless syncing with business systems.
Phone payments
With TakePayments, businesses can accept secure payments over the phone. This is ideal for businesses that offer remote services or want to provide an additional payment method to their customers.
TakePayments reviews
| Review Platform | Rating |
| --- | --- |
| TrustPilot | 4.5/5 |
| Google Reviews | 4.2/5 |
| Reviews.io | 4.3/5 |
| Average | 4.33/5 |
TakePayments reviews
Alternatives to TakePayments
TakePayments is not the only option for payment processing services in the UK. Other popular alternatives include Square, SumUp, and PayPal.
Square offers similar services with additional features like sales analytics, inventory management, and customer engagement tools. SumUp is a low-cost, straightforward payment processor with no fixed costs or contractual obligations. PayPal, a globally recognised brand, provides robust online and mobile payment solutions but has a more complex fee structure.
Each alternative has its unique strengths and is worth considering based on the specific requirements of your business.
Additional considerations
When choosing a payment service provider, consider the size and nature of your business, the volume of transactions, and the types of payments you wish to accept. Also, consider customer service availability, security features, and the potential for integration with other business systems.
TakePayments company history
Founded in 1989, TakePayments, formerly Payzone, has grown to become one of the leading payment service providers in the UK. Initially offering payment processing for physical stores, the company has adapted to changes in the retail landscape, embracing e-commerce and mobile transactions.
FAQ
Does TakePayments offer support for setup?
Yes, they offer support during the setup process and ongoing customer service.
Can I use TakePayments for international transactions?
Yes, but additional charges may apply.
Is there a contract for using TakePayments services?
Yes, they usually require a 12-month contract.
What types of payments can TakePayments process?
They can process face-to-face, online, and phone payments.
What security measures does TakePayments have in place?
TakePayments complies with PCI DSS standards to ensure all transactions are secure.
Does TakePayments integrate with other business systems?
Yes, they offer integrated payments for seamless syncing with business systems.
Does TakePayments charge monthly rental fees for card machines?
No, there are no monthly rental fees for card machines.
How long does it take to set up with TakePayments?
They promise a quick setup, usually within 3 days.