West One Loans is a specialist lender that offers property-centric financial products to businesses and personal borrowers.
Alas, this lender does not work with commercial mortgages, just purchases from SPVs, making West One unsuitable for an SME owner seeking a loan for a commercial premises.
West One does not offer straightforward loans or other funding solutions – everything this lender has to offer is related to the property market. West One will consider working with direct applicants, or you can team up with a broker to find the best product for your commercial property needs.
West One property loans and business finance
Pros and cons of West One for business finance
| Pros | Cons |
| --- | --- |
| ✓ Numerous commercial mortgage and property-centric products are available | ✗ All products are related to property, but commercial mortgages are not available |
| ✓ Reputation for keeping the application process simple and tailoring products to a client's needs | ✗ Information for borrowers on the website is scant, as this site is tailored to introducers and partners |
| ✓ Winners of a range of industry awards | ✗ Limited and mixed online reviews |
West One pros and cons
Commercial mortgages
Mortgages and property finance are the core offering of West One. SME owners cannot apply for a commercial mortgage through West One, but the following products are available to businesses:
Buy to let mortgages
A business can borrow between £7,500,000 in total to purchase up to 20 properties on a buy to let basis (lending is typically capped at £1,500,000 per property.) No minimum income criteria are set as decisions are made based on rental yield and affordability, so no credit report will be run. Business owners based outside the UK can apply for a mortgage by referral.
Second charge mortgages
Free up capital to redirect as you need by taking out a second-charge mortgage on a property that your business owns. This is basically a secured loan, with the amount you can borrow dependent on how much equity is available in the property you are placing on the line as collateral.
Development finance
Borrow between £1,000,000 and £20,000,000 for the development of property on land that has secured planning permission. This lending is only available to experienced developers that have completed at least two successful projects of the same ilk.
Bridging finance
Borrow funds to plug a gap between completing the sale of one property and the purchase of another, with the full loan sum repayable within 12 months.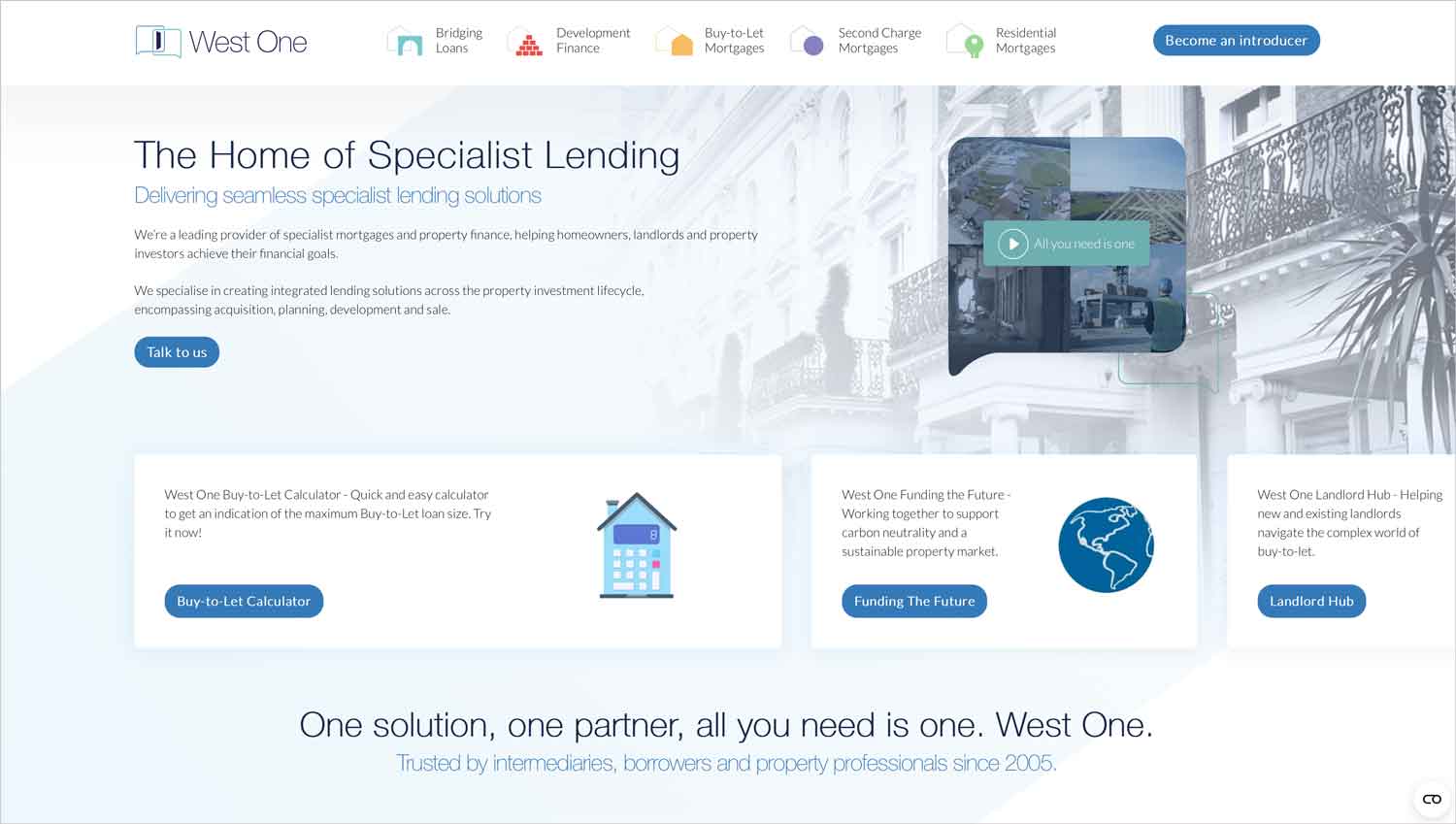 Business loans
✗ Not available through West One. See business loans.
Asset finance
✗ Not available through West One. See asset finance.
Invoice finance
✗ Not available through West One. See invoice factoring.
Merchant cash advance
✗ Not available through West One. See merchant cash advance.
Business vehicle finance
✗ Not available through West One. See business vehicle finance. 
Business credit cards
✗ Not available through West One. See best business credit cards. 
West One Loans key information
| | |
| --- | --- |
| Phone number | 0333 123 4556 |
| App downloads | N/A |
| Website | www.westoneloans.co.uk |
| Number of branches | N/A |
| FSCS protected? | No |
| Founded | 2007, Borehamwood |
Key information
West One Loans reviews
West One Loans reviews and ratings
Business eligibility criteria
Unless you are seeking funding for property development, which requires proof of two successful prior projects, West One are quite flexible on who they will allow to take out a mortgage.
This lender works on affordability, not historical credit information or experience, so first-time buyers and those with impaired credit may still be able to obtain a buy to let mortgage through their business.
Business finance alternatives
As West One is a mortgage specialist that does not offer commercial mortgages, you may need to look elsewhere to secure funding for a trading site. In these instances, consider Assetz Capital, Proplend, InterBay, Together Money, or Cambridge & Counties Bank.
Additional considerations
Despite global economic uncertainty, West One Loans continues to flourish – the lender posted record performance and growth numbers in 2022, suggesting this is a stable business to approach for borrowing.
FAQ
How do I apply for finance from West One Loans?
You can call West One on 0333 123 4556 to discuss your options, or make a written inquiry through the website and wait for a callback.
Can I get a business loan through West One Loans?
No, West One only works with residential and buy to let mortgages. You can purchase these properties as a limited company, though. The closest thing West One offers to a straightforward loan is taking out a second-charge mortgage on a property that your business already owns.
How much can I borrow from West One Loans?
Typically, West One Loans capped mortgage borrowing at £1,500,000 per property, £7,500.000 for a portfolio of up to 20 properties, or £20,000,000 for a property development. How much you can actually borrow will vary according to perceived affordability.
What interest rate does West One Loans assign to a mortgage?
This will vary according to the mortgage product that you require and your financial circumstances. As always, greater risk to West One Loans as a lender will result in higher interest payments.
Can I get a mortgage from West One Loans if I have bad credit?
In theory, yes – West One Loans makes all decisions based on affordability rather than credit score, so historical issues may not be a stumbling block to gaining access to the funds you require.
Can I apply for funding through West One Loans directly?
Yes, although West One Loans predominantly works with brokers and introducers as they are a specialist lender, they will also consider direct applications.