Zettle, a member of the PayPal family, is a fintech company based in Stockholm, Sweden. Known for offering an array of financial solutions tailored to small businesses, it excels in payment processing, digital receipts, and insightful sales reporting – but does it have good reviews?
Compare options for taking card payments
This article presents an in-depth review of Zettle's offerings, analysing its strengths, weaknesses, and how it stacks up against competitors.
Headline numbers
Over 500,000 businesses worldwide use Zettle
Transactions in 12 different currencies supported
Capable of depositing payments into a bank account within 1-2 business days
Available in more than 30 countries
Zettle data and fees
| Fees Category | Details |
| --- | --- |
| Card reader name | Zettle Card Reader |
| Contract length | Pay as you go |
| Terminal cost | £59 + VAT |
| Consumer card fees | 1.75% |
| Business card fees | 1.75% |
| Card not present (CNP) fees | 2.5% |
| Minimum monthly charge | None |
| Refund fees | No additional fee, the transaction fee is refunded |
| Chargebacks | £0 for covered transactions, £10 otherwise |
| Replacement reader | £59 + VAT |
| Receipt rolls | Dependent on external supplier, not provided by Zettle |
| Paper billing (optional) | Not offered |
| PCI compliance | Compliant, no additional fee |
| Early termination | No early termination fee |
Please note that these fees are correct as of the date of writing, but they may change over time. Always check with Zettle directly for the most current pricing information.
Company information
| Key Info | Details |
| --- | --- |
| Founded | 2010, Sweden |
| Website URL | zettle.com |
| Phone number | +44 20 3984 8464 |
| FSCS protected? | No |
| FCA regulated? | Yes |
Key information about Zettle
Pros and cons of Zettle
Pros
Easy to use with simple setup
Competitive transaction rates
Swift payment processing times
Sales analytics and reporting
Cons
Limited to card payments; cash and cheque transactions not supported
Customer support may not be as responsive during non-business hours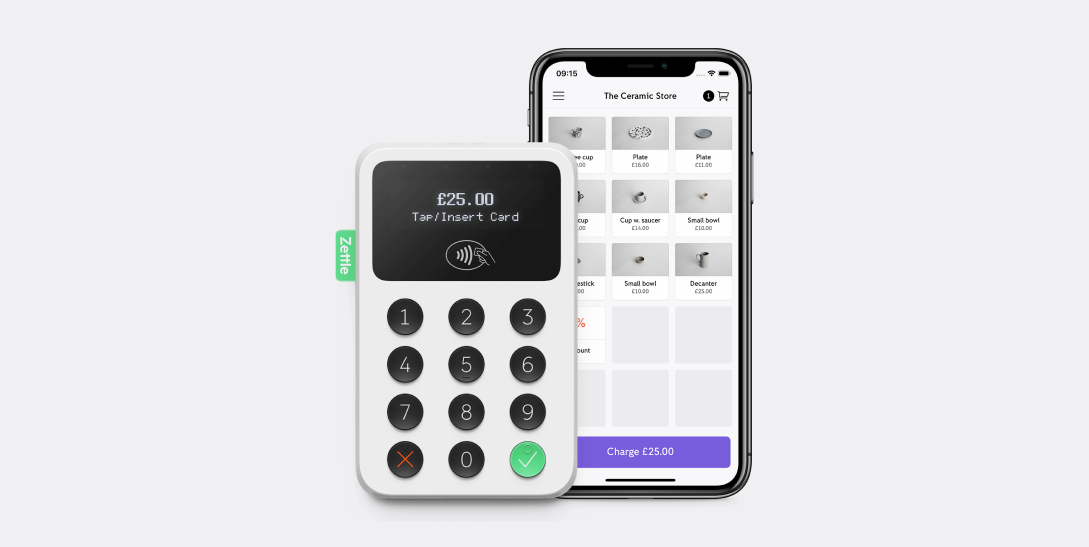 Zettle products and services
Zettle Go
Description: This is the company's flagship mobile app that turns your device into a point-of-sale terminal.
Data: Supports contactless payments and chip & pin.
Costs & Fees: Free to download, with a 1.75% transaction fee.
Zettle Pro
Description: A more advanced POS app tailored to specific industries, particularly hospitality.
Data: Integrates with iZettle Reader and includes table management and food order features.
Costs & Fees: £20 per month, plus transaction fees.
Zettle Card Reader
Description: A portable card reader that works with the Zettle Go app.
Data: Accepts all major debit and credit cards and supports contactless payments.
Costs & Fees: The reader costs £59 + VAT, with a 1.75% transaction fee.
Zettle Online
Description: An e-commerce solution for businesses to sell products online.
Data: Integrated with the Zettle Go app to manage both online and physical sales.
Costs & Fees: 2.5% per transaction for online payments.
Zettle reviews
Compare Zettle reviews from different platforms here:
| Source | Rating |
| --- | --- |
| TrustPilot | 4.1 / 5 |
| Google Reviews | 4.3 / 5 |
| Reviews.io | 4.2 / 5 |
| Average | 4.2 / 5 |
Zettle reviews
Alternatives to Zettle
Square, SumUp, and PayPal Here are notable alternatives to Zettle, each with its unique features, pricing structures, and offerings tailored to various industries.
Additional considerations
While Zettle offers a comprehensive suite of solutions for small businesses, it's essential to assess how its features align with your business needs. The lack of FSCS protection may be a consideration for some businesses.
Zettle company history
Zettle was founded in Stockholm, Sweden, in 2010. It started with a mission to simplify and democratise financial services. The company gained recognition for launching the first mini chip card reader and software for mobile devices. In 2018, Zettle became a part of the PayPal family, allowing it to expand its services worldwide.
FAQ
Is Zettle's customer service responsive?
Yes, Zettle offers telephone and email support. However, responses may be slower during non-business hours.
Can Zettle accept payments other than cards?
No, Zettle primarily focuses on card payments, including contactless and chip & pin.
Does Zettle offer any industry-specific services?
Yes, Zettle Pro is a tailored solution for the hospitality industry, featuring table management and food order capabilities.
Does Zettle require a long-term contract?
No, Zettle operates on a pay-as-you-go basis. There are no long-term contracts or monthly fees unless you choose to use Zettle Pro.
Can I use Zettle abroad?
Yes, Zettle can accept payments from a range of countries and in different currencies. However, you should check the roaming fees from your network provider.
Is the Zettle system compatible with all types of mobile devices?
Zettle is compatible with most iOS and Android devices. You can check the full list of compatible devices on the Zettle website.
What happens if my Zettle card reader stops working?
If your card reader is not working, you should contact Zettle customer service immediately. They will be able to guide you through troubleshooting steps or arrange for a replacement if necessary.
Can I integrate Zettle with my existing business management software?
Yes, Zettle integrates with a range of popular software applications, including point of sale systems, accounting software, and e-commerce platforms. You can find a full list of integrations on the Zettle website.
Can I offer refunds through Zettle?
Yes, you can process refunds directly through the Zettle app. The refunded amount will be returned to the customer's account, and the transaction fee will be refunded to you.
How secure is Zettle?
Zettle is approved by EMV (Europay, Mastercard, and Visa) and is compliant with PCI DSS (Payment Card Industry Data Security Standard), ensuring high-level security for all transactions.