ANNA Money was established as an online business banking administrative platform in 2017. An acronym of Absolutely No Nonsense Admin, ANNA Money removes the stress and mystique from processing business finance and tax.
Compare business bank accounts
What are you looking for?
In partnership with
Tide

Co-Op Business Banking
✓ Business Current Account
✓ Online, App & High Street Banking
✓ Quick & Easy Application Process


HSBC Business Banking
✓ Business Current Account
✓ In-Branch, Online & App Banking
✓ FSCS Protected


Metro Business Banking
✓ Business Current Account
✓ High Street Presence
✓ FSCS Protected


Mettle Business Banking
✓ Business Bank Account
✓ Online & App
✓ Quick & Easy Application Process


Monzo Business Banking
✓ Business Current Account
✓ Dedicated mobile app experience
✓ FSCS Protected


Tide Business Bank Accounts
✓ Free, Plus, or Pro Account
✓ iOS & Android Mobile App
✓ Upload & Auto-Match Receipts


Virgin Money
✓ Business M Account
✓ In-Store, Online & App Banking
✓ Insights & Forecasting Platform

ANNA Bank is popular with business owners and professional accountants, as this service makes sending, receiving, and categorising payments simple. This HMRC-approved app handles tax responsibilities too, so it can be a huge timesaver.
Users can choose the ideal ANNA account for their needs, from a variety of price points. If you barely use the service, you can keep your charges to a minimum – or pay a monthly subscription for more enhanced services.
ANNA business banking services
Pros and cons of ANNA Money for business services
| Pros of ANNA Money | Cons of ANNA Money |
| --- | --- |
| ✓ Monthly fees vary depending on use | ✗ No high street support |
| ✓ State-of-the-art, user-friendly mobile app | ✗ No ability to use cheques |
| ✓ Immediate set-up of an account | ✗ No lines of credit available |
| ✓ 24/7 online customer service | ✗ Not FSCS-protected |
| ✓ Plenty of services available | ✗ Fees can build up quickly |
Features of ANNA Money business banking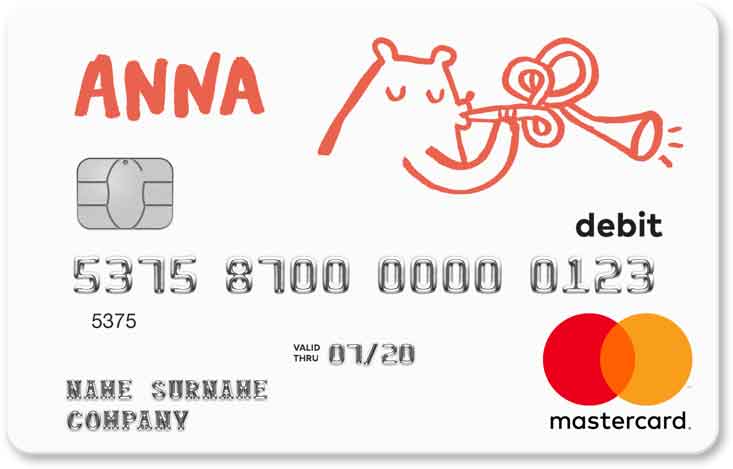 Business current accounts
Anna Money offers three accounts for business owners and sole traders:
Pay as you go
This is the most basic account offered by ANNA Money. As the name suggests, this account has no recurring subscription charges – you will only pay for what you use. However, almost every transaction you make through this account will attract a fee.
You can use your ANNA Money debit card anywhere in the UK without accruing a penalty charge, earning 1% cashback when you spend with a handful of businesses. Withdrawing cash from an ATM will cost £1 every time you do so, and bank transfers to UK accounts will be 20p per transaction.
You will be charged 1% of the transaction total if you wish to pay cash into your ANNA Money account at a PayPoint, and the same fee applies if you accept card payments through a personal, bespoke link provided by ANNA.
Payments overseas are charged at £5 each, and if you wish to assign pots within your ANNA Money account to distribute funds (such as tax savings) these are charged at £1 each per pot, per month. If you want more than one debit card attached to your ANNA bank account, extra cards are charged at £3 each per month.
Business account
This account costs £14.90 per month, plus VAT, though the first month is free. Before you balk at this, there are free transactions built into an ANNA Money business bank account. You'll enjoy two free money pots, and up to five debit cards, before you need to pay any further fees.
In a single month, the business bank account also offers up to 50 free UK bank transfers, one free overseas payment, three free ATM withdrawals, £300 in free cash deposits, and £200 in card payments without charge. Once these allocations have been exhausted, the same fees as the pay as you go account are applicable.
Big Business account
The big business account costs an eyewatering £49.50 plus VAT, with one month free, so only major players should apply.
However, this account entitles holders to unlimited money pots and debit cards without charge, and no fees on UK bank transfers, ATM withdrawals, card payments, or cash deposits.
If you will have multiple staff using the same ANNA Bank account, this could be the most cost-effective solution to managing your business finances.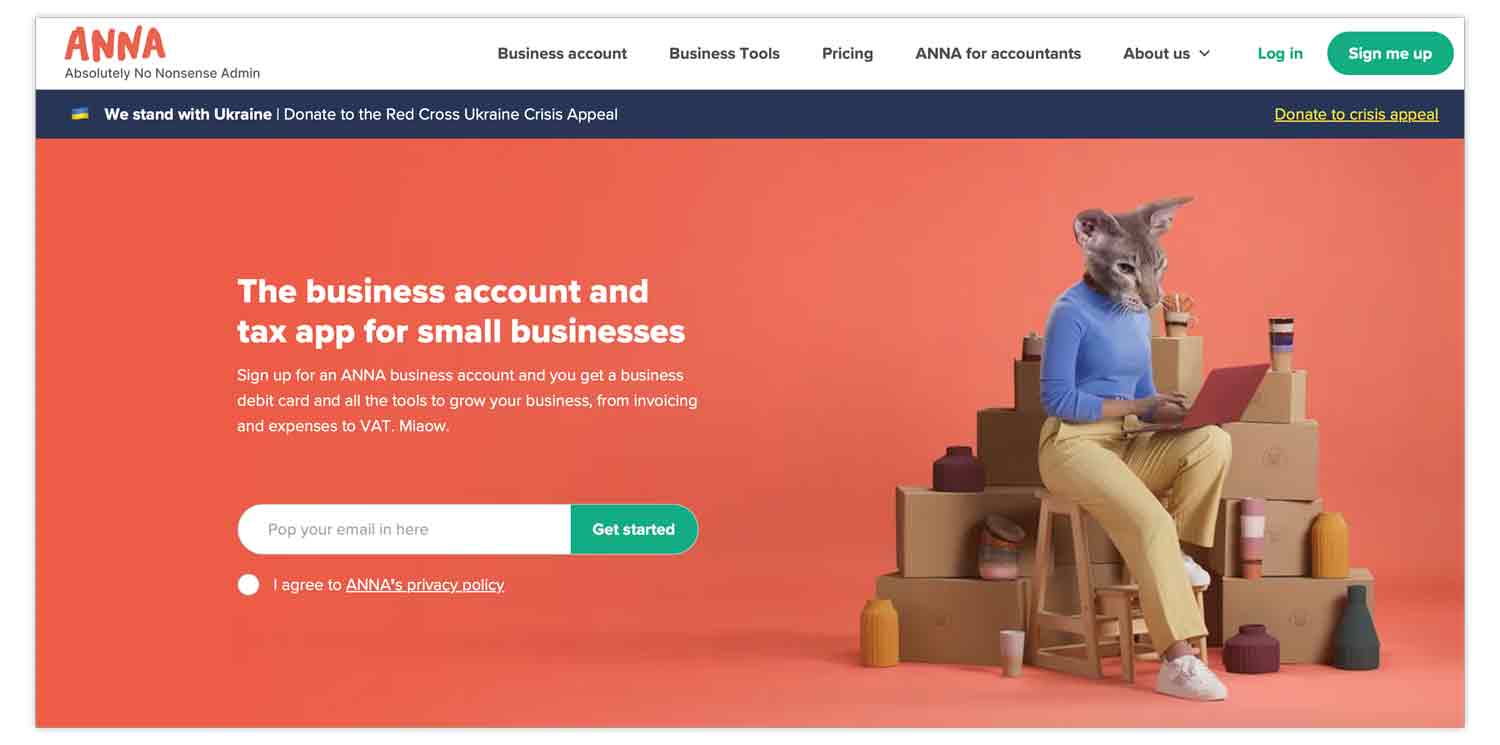 Business overdrafts
✗ Not available from ANNA Money. 
Business savings accounts
✗ Not available from ANNA Money.
ANNA Money at a glance
| | |
| --- | --- |
| Phone number | 020 3393 8688 |
| App downloads | iOS, Android |
| Website | https://anna.money/business-account/ |
| Number of branches | N/A – ANNA Money is an app-only challenger account |
| FSCS protected? | No |
| Founded | 2017, London |
Key information for ANNA Money
Other business finance products
ANNA does not offer any additional products beyond business current accounts and the management thereof. If you are looking for business overdrafts, business loans, or business credit cards, you will need to look for another provider.
ANNA Money reviews
What are other business banking customers saying about ANNA?
| Review platform | Score | Number of votes |
| --- | --- | --- |
| TrustPilot | 4.7/5 | 2,213 |
| Feefo | Not reviewed | N/A |
| Reviews.co.uk | Not reviewed | N/A |
| Smart Money People | 4.76/5 | 144 |
| Which? | Not reviewed | N/A |
| Average score | 4.73/5 | 2,357 |
ANNA Money reviews
ANNA Money business eligibility criteria
Any sole trader that is registered with HMRC, or a business owner whose company is listed on Companies House, is welcome to apply for an ANNA account. You must be based in the UK and aged over 18.
When you apply for an ANNA Money account, you will need to upload the following documents.
Photographic ID (passport or driving licence)
If you have neither of the above, a recent photo certified by a bank, accountant, or solicitor
Proof of address
You may also be asked some questions about your business model. The account will be opened within 10 minutes if your application is approved.
ANNA Money business finance alternatives
ANNA Money has a lot to offer SME owners and small traders, but it does not cover every base. If you are looking for a challenger account that also offers FSCS protection and lines of credit, including business overdrafts, you may wish to consider rivals like Starling Bank, Monzo, or Cashplus.
ANNA Money additional considerations
Two former major shareholders of ANNA Money's parent company, Mikhail Fridman and Petr Aven, were sanctioned as part of the repercussions of Russia's invasion of Ukraine. ANNA Money has since cut ties with these two men, but some people may still be reluctant to entrust their business finances to this provider.
FAQ
Is ANNA Bank a proper bank?
No, ANNA Bank is technically not a bank. However, it is a legitimate financial institution that is registered with the Financial Conduct Authority. They offer banking services such as current accounts, savings accounts, mortgages, loans and credit cards to customers in the UK. ANNA Bank also has an online platform where you can manage your finances and make payments.
How to open an ANNA Bank business account?
Opening a business account with ANNA Bank is simple and straightforward. All you need to do is create an account on the company's website and follow the online instructions that will walk you through the process. Depending on your specific needs, there are different types of accounts that can be chosen from, including sole trader, limited liability companies or partnerships. You will also need to provide identification documents and other relevant financial information. Once the account is set up and opened, you can start transacting immediately.
What features does an ANNA Bank business account offer?
ANNA Bank offers a range of features for their business accounts that help make managing your finances easier. These include allowances such as free cash deposits, low-cost debit cards, online banking services and mobile app access. You can also keep track of your spending by setting up budgeting tools and getting real-time notifications. Additionally, customers can benefit from ANNA Bank's automated invoicing and payment feature which allows you to easily manage payments and receive funds quickly.
What fees does ANNA Bank charge?
The fees charged by ANNA Bank depend on the type of account that you choose. However, they generally offer competitive rates. Some accounts may charge a small fee for certain services such as international payments or cash deposits. Customers should check their specific account details to find out more about any applicable fees and charges.
What services does ANNA Bank offer?
ANNA Bank offers a variety of services to help customers with their financial needs. These include current accounts, savings accounts, mortgages, loans and credit cards. There are also digital banking services available such as online banking and an app access feature that allows customers to manage their finances on the go.
What types of payments does ANNA Bank accept?
ANNA Bank accepts payments through a variety of methods, including debit and credit cards, bank transfers, cheques and direct debits. They also offer automated invoicing and payment services which allow customers to easily manage payments and receive funds quickly. Customers can pay for goods or services both online and in-store using their ANNA Bank card.