Today the idea of an app-based challenger bank with no branch support is hugely commonplace, but Atom Bank was a unique proposition when it was the first bank to launch this model in 2013.
Compare business bank accounts
What are you looking for?
In partnership with
Tide

Co-Op Business Banking
✓ Business Current Account
✓ Online, App & High Street Banking
✓ Quick & Easy Application Process


HSBC Business Banking
✓ Business Current Account
✓ In-Branch, Online & App Banking
✓ FSCS Protected


Metro Business Banking
✓ Business Current Account
✓ High Street Presence
✓ FSCS Protected


Mettle Business Banking
✓ Business Bank Account
✓ Online & App
✓ Quick & Easy Application Process


Monzo Business Banking
✓ Business Current Account
✓ Dedicated mobile app experience
✓ FSCS Protected


Tide Business Bank Accounts
✓ Free, Plus, or Pro Account
✓ iOS & Android Mobile App
✓ Upload & Auto-Match Receipts


Virgin Money
✓ Business M Account
✓ In-Store, Online & App Banking
✓ Insights & Forecasting Platform

Atom Bank does not offer business current accounts, which immediately places it at a disadvantage when compared to many rivals, but the savings accounts offer impressive interest rates to a business or sole trader that wishes to grow and expand, while this bank also offers secured loans to be guaranteed against an asset that your company owns.
Atom Bank business banking services
Pros and cons of Atom Bank for business services
| Pros of Atom Bank | Cons of Atom Bank |
| --- | --- |
| ✓ Competitive interest rates on savings | ✗ No current account |
| ✓ FSCS protected | ✗ Good credit required for borrowing |
| ✓ Good online reviews | |
Pros and cons of Atom Bank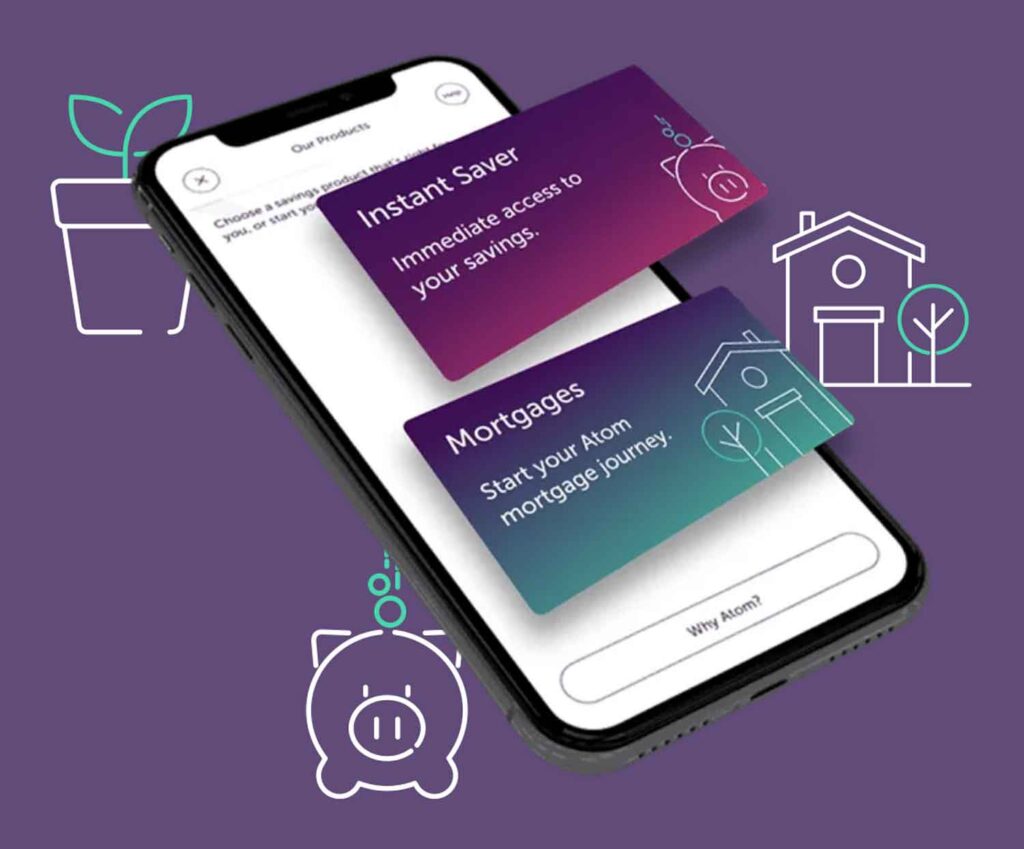 Atom business current accounts
✗ Atom Bank does not offer current accounts to business customers. See best business bank accounts.
Atom business overdrafts
✗ Not available through Atom Bank. See best business overdrafts.
Atom business savings accounts
Savings accounts are the specialty of Atom Bank. Two options are available:
Instant Saver
Open a savings account with no minimum deposit and enjoy access to your money at any time. Interest is paid monthly at an EAR of 2.95%.
Fixed Saver
You will not be able to access your money until the duration of your term – which can be anywhere from six months to five years – but the interest rates provided are superior to an Instant Saver account. The minimum deposit for this account is £50, and the interest rates break down as follows.
| Fixed Saver term | Annual interest AER |
| --- | --- |
| 6 months | 3.55% |
| 9 months | 3.75% |
| 12 months | 4.20% |
| 2 years | 4.20% |
| 3 years | 4.20% |
| 4 years | 4.20% |
| 5 years | 4.25% |
Atom Bank savings interest rates
Atom Bank at a glance
| | |
| --- | --- |
| Phone number | 0333 399 0050 |
| App downloads | iOS; Android |
| Website | www.atombank.co.uk |
| Number of branches | N/A |
| FSCS protected? | Yes |
| Founded | 2013, London |
Key information
Atom Bank business loans and finance
Atom Bank offers mortgage products, but only to personal customers. Businesses can apply for a secured loan, guaranteed against an asset owned by your company. Loan-to-value will be capped at 75%, so if your asset is worth £100,000 you can borrow up to £75,000, and if you fail to keep up with repayments, you may be forced to sell the asset and settle your loan with the proceeds.
Fixed rate secured loans
An interest rate will be agreed upon and retained for a period between two and six years. This means that you will always pay the same amount every month – an agreed capital repayment, plus an unchanging rate of interest.
Variable rate interest loans
Your interest rate will vary according to the Bank of England base rate. If this base rate drops after you agree to your loan, you could pay less each month – but if it increases, your repayments will be higher. Only consider this loan if you are willing to gamble on the national economic health.
Atom Bank reviews
What are other business banking customers saying about Atom Bank?
| Review platform | Score | Number of votes |
| --- | --- | --- |
| TrustPilot | 4.8/5 | 9,588 |
| Feefo | Not reviewed | N/A |
| Reviews.co.uk | Not reviewed | N/A |
| Smart Money People | 3.53/5 | 182 |
| Which? | Not reviewed | N/A |
| Average score | 4.165/5 | 9,770 |
Atom Bank business banking reviews and ratings
Atom Bank business eligibility criteria
Any business or sole trader can set up a savings account with Atom Bank. There is no minimum deposit to open an Instant Saver account, while a Fixed Saver account requires a deposit of at least £50.
When seeking a secured loan from Atom Bank for your business, this lender is a little more stringent than some competitors. While Atom Bank offers near-prime mortgages to personal applicants, this flexibility is not provided to a business seeking a loan. Consider looking elsewhere if your business has encountered financial difficulty, or is yet to build a reputable credit status.
Atom Bank business finance alternatives
As a challenger bank, Atom Bank was a trailblazer when founded but has arguably been left behind by some more contemporary competitors.
The lack of a current account facility could be a dealbreaker, in which case business customers are better off looking at a facility like Mettle, Tide, Countingup, or Monzo – though these will not offer the savings and high-rate borrowing provided by Atom Bank.
If you are only interested in savings and borrowing, consider Aldermore or Allica Bank as an alternative.
Atom Bank additional considerations
Atom Bank made the news in 2022 after adjusting or outright pulling a range of mortgage offers based on the changes to the national economic climate. While Atom Bank was far from the only lender to take this action, it left a lot of people in a very difficult situation.