Monese was the UK's first digital-only current account upon launch in 2015, though it's fair to say many rivals have surpassed it since. At the time of writing, Monese bank is not accepting new business customers, though this will change once some behind-the-scenes work on the app has been completed.
Compare business bank accounts
What are you looking for?
In partnership with
Tide

Co-Op Business Banking
✓ Business Current Account
✓ Online, App & High Street Banking
✓ Quick & Easy Application Process


HSBC Business Banking
✓ Business Current Account
✓ In-Branch, Online & App Banking
✓ FSCS Protected


Metro Business Banking
✓ Business Current Account
✓ High Street Presence
✓ FSCS Protected


Mettle Business Banking
✓ Business Bank Account
✓ Online & App
✓ Quick & Easy Application Process


Monzo Business Banking
✓ Business Current Account
✓ Dedicated mobile app experience
✓ FSCS Protected


Tide Business Bank Accounts
✓ Free, Plus, or Pro Account
✓ iOS & Android Mobile App
✓ Upload & Auto-Match Receipts


Virgin Money
✓ Business M Account
✓ In-Store, Online & App Banking
✓ Insights & Forecasting Platform

Monese business customers will also be provided with a personal account, which makes it easier to transfer business income for personal spending, and can be linked to PayPal to keep all your business income in one place, but it's hard to find a reason to recommend Monese over a specialist challenger bank account designed for business customers.
Monese business banking services
Pros and cons of Monese for business services
| Pros of Monese | Cons of Monese |
| --- | --- |
| ✓ Once applications are open, it's free and fast to apply | ✗ Not currently accepting applications for business accounts |
| ✓ Excellent online reviews | ✗ £9.95 monthly fee for a limited service |
| ✓ No credit checks when opening an account | ✗ £50,000 maximum balance for 3 months |
| ✓ Free currency transfers between £ and € | ✗ Not a bank, so funds are not FSCS protected |
Monese business banking pros and cons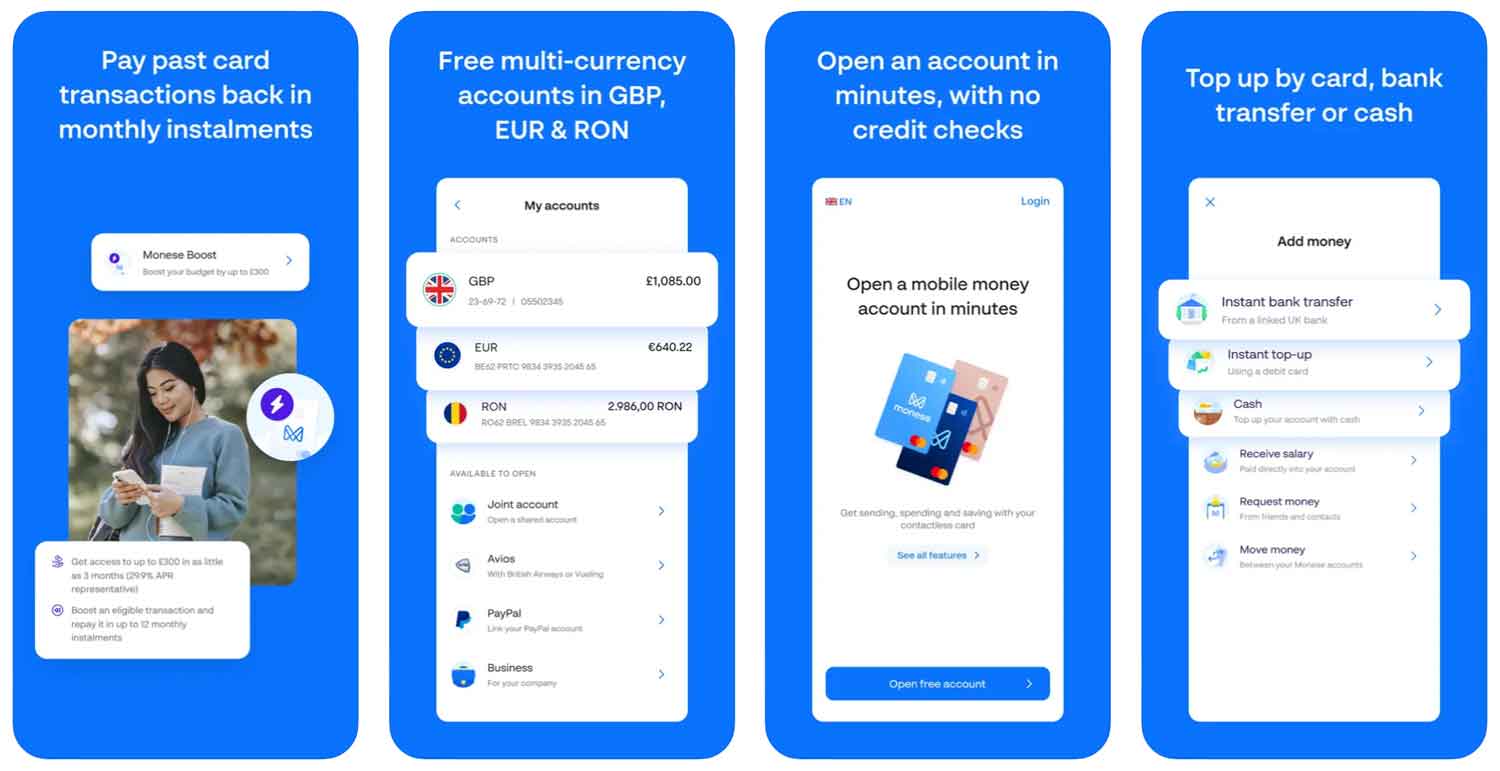 Business current accounts
Monese is not currently accepting applications for business bank accounts, though you will be invited to sign up for updates on when this will change. When Monese is accepting applications, it's quick and easy with no credit check – you should be up and running almost immediately.
Assuming Monese does not change its offering when applications re-open, a business account costs £9.95 per month, though you will also be entitled to a free Monese Classic personal account (usually £5.95 per month) which comes with a separate debit card.
You can link your Monese business account to a PayPal account and keep all your business income from both platforms in one place. Unlike PayPal, Monese also offers business customers a debit card with six free cash withdrawals per month, charged at £1 per withdrawal after this. Cash can be added to a Monese account at a Post Office for a £1 fee.
Like PayPal, you can use Monese to invoice customers in a range of overseas currencies. If you're trading in €, your income can be converted to £ at no cost.
Business overdrafts
✗ Not available through Monese. See best business overdrafts.
Business savings accounts
✗ Not available through Monese. See best business savings accounts.
Monese at a glance
| | |
| --- | --- |
| Phone number | 01706 304001 |
| App downloads | iOS; Android |
| Website | www.monese.com/is/en/business |
| Number of branches | N/A |
| FSCS protected? | No |
| Founded | 2015 |
Key information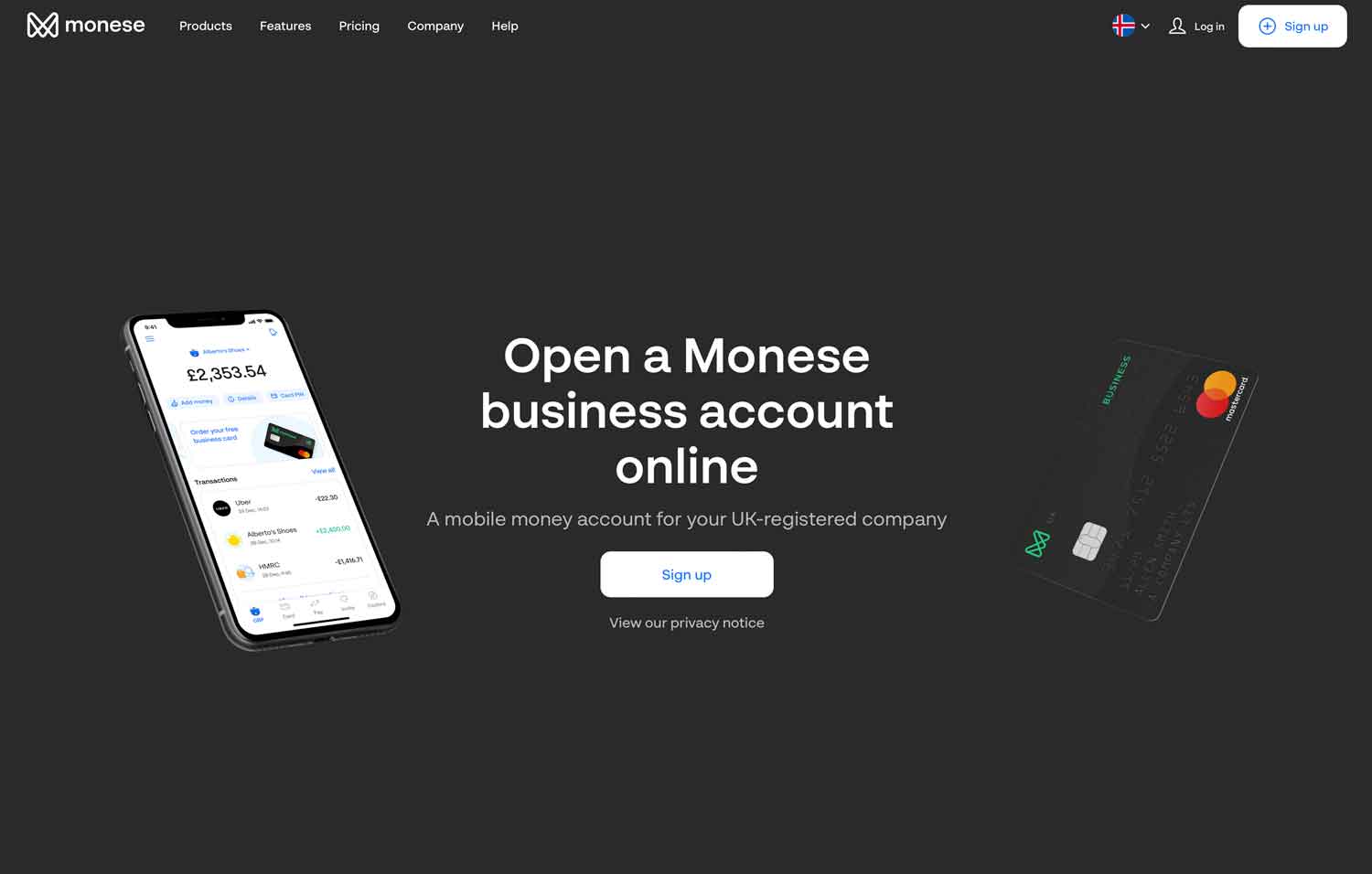 Other business finance products
✗ Monese does not offer any business products beyond what we have discussed. See best business loans.
Monese reviews
What are other business banking customers saying about Monese?
| Review platform | Score | Number of votes |
| --- | --- | --- |
| TrustPilot | 4.0/5 | 33,199 |
| Feefo | Not reviewed | N/A |
| Reviews.co.uk | Not reviewed | N/A |
| Smart Money People | 4.74/5 | 5,394 |
| Which? | Not reviewed | N/A |
| Average score | 4.37/5 | 38,593 |
Monese reviews and ratings
Monese business eligibility criteria
You will need to be based in the UK, and provide evidence of a British trading address, to qualify for a Monese business account, in addition to being 18 or older. Like many financial bodies, Monese will also not work with accounts they consider high-risk, such as providers of adult entertainment, online gaming, pharmaceuticals, weapons, or cryptocurrency. If you do not fall foul of these restrictions, Monese will usually open your account immediately (once new applications are open) without a credit check.
Monese business finance alternatives
The closest competitor to Monese is also a partner – we're referring to PayPal, which offers a very similar service. In reality, though, it's very hard to recommend Monese over a traditional challenger bank like Mettle, Starling Bank, Countingup, Tide, or Monzo. You may not be able to accept overseas payments using these accounts, but they will offer many alternative features, usually for a much lower monthly fee, if you can find another way to manage your international transactions.
Monese other considerations
Monese is not a bank, so your business funds are not protected by the FSCS. It could be considered a risk to leave a balance active on a Monese account.
FAQ
Is Monese a proper bank?
Monese is not a bank, but it does offer some of the same financial services that banks provide. It has a current account, debit cards and even allows you to make international money transfers like many of the traditional banks do. However, Monese is different from traditional banks in several ways. For one thing, they have no physical branches or offices, which makes them more accessible and convenient for customers who may not be able to travel to a bank branch. Additionally, their customer service is available 24/7 through an online chat system and they offer a range of features specific to the digital banking experience such as budgeting tools and one-click payments.
How to open a Monese business account?
Opening a Monese business account is simple and straightforward. To get started, all you need to do is download the app, select the 'Business' option in the sign up process, then fill out your details such as name, contact information, address and a valid ID. After that, you can link your existing bank accounts or start from scratch and set up a new account with Monese. Once your account is setup, you will be able to use all of the features that Monese offers such as budgeting tools, one-click payments and more. You can also get access to their debit card for easy spending on the go.
What fees does Monese charge?
Monese charges a monthly fee for their current accounts, depending on the plan you choose. The starter account has no monthly fee but there are charges for international payments and other services. Additionally, Monese may charge additional fees for certain features or services such as card replacement, cash deposits and so on.
What services does Monese offer for businesses?
Monese offers a range of services for businesses, including the ability to create multiple accounts and link them together, separate business expenses from personal spending with budgeting tools, and make one-click payments. Businesses can access their accounts and manage operations from anywhere, on any device.

Monese also provides fast international transfers with no hidden fees or exchange rate markups. Businesses can pay suppliers in different currencies quickly, safely and securely. They can also benefit from the stability and security of having multi-currency accounts to protect against currency fluctuations.
What types of payments does Monese accept?
Monese accepts various types of payments such as credit/debit card payments, direct bank transfers and even cash deposits. This makes it easy for businesses to pay suppliers or customers in various currencies quickly and securely.