Intergiro is a Sweden-based business toolkit that allows business customers to hold accounts in up to 8 different currencies, which sounds amazing if you do a substantial amount of international trade.
Compare business bank accounts
What are you looking for?
In partnership with
Tide

Co-Op Business Banking
✓ Business Current Account
✓ Online, App & High Street Banking
✓ Quick & Easy Application Process


HSBC Business Banking
✓ Business Current Account
✓ In-Branch, Online & App Banking
✓ FSCS Protected


Metro Business Banking
✓ Business Current Account
✓ High Street Presence
✓ FSCS Protected


Mettle Business Banking
✓ Business Bank Account
✓ Online & App
✓ Quick & Easy Application Process


Monzo Business Banking
✓ Business Current Account
✓ Dedicated mobile app experience
✓ FSCS Protected


Tide Business Bank Accounts
✓ Free, Plus, or Pro Account
✓ iOS & Android Mobile App
✓ Upload & Auto-Match Receipts


Virgin Money
✓ Business M Account
✓ In-Store, Online & App Banking
✓ Insights & Forecasting Platform

The problem is that Intergiro is only available to SME owners and sole traders based in the EEA, so British businesses are not able to take advantage of this service. If you can find a way to qualify for an Intergiro account, it's certainly worth considering – this is a thoroughly affordable way to send and receive funds in multiple currencies.
Intergiro business banking services
Pros and cons of Intergiro for business services
| Pros of Intergiro | Cons of Intergiro |
| --- | --- |
| ✓ Easily send and receive funds in 8 currencies | ✗ Not available in the UK |
| ✓ Affordable monthly fees based on use of the account | ✗ If you can get an account, funds are not FSCS protected |
| | ✗ No lending streams or additional products |
Interior business banking pros and cons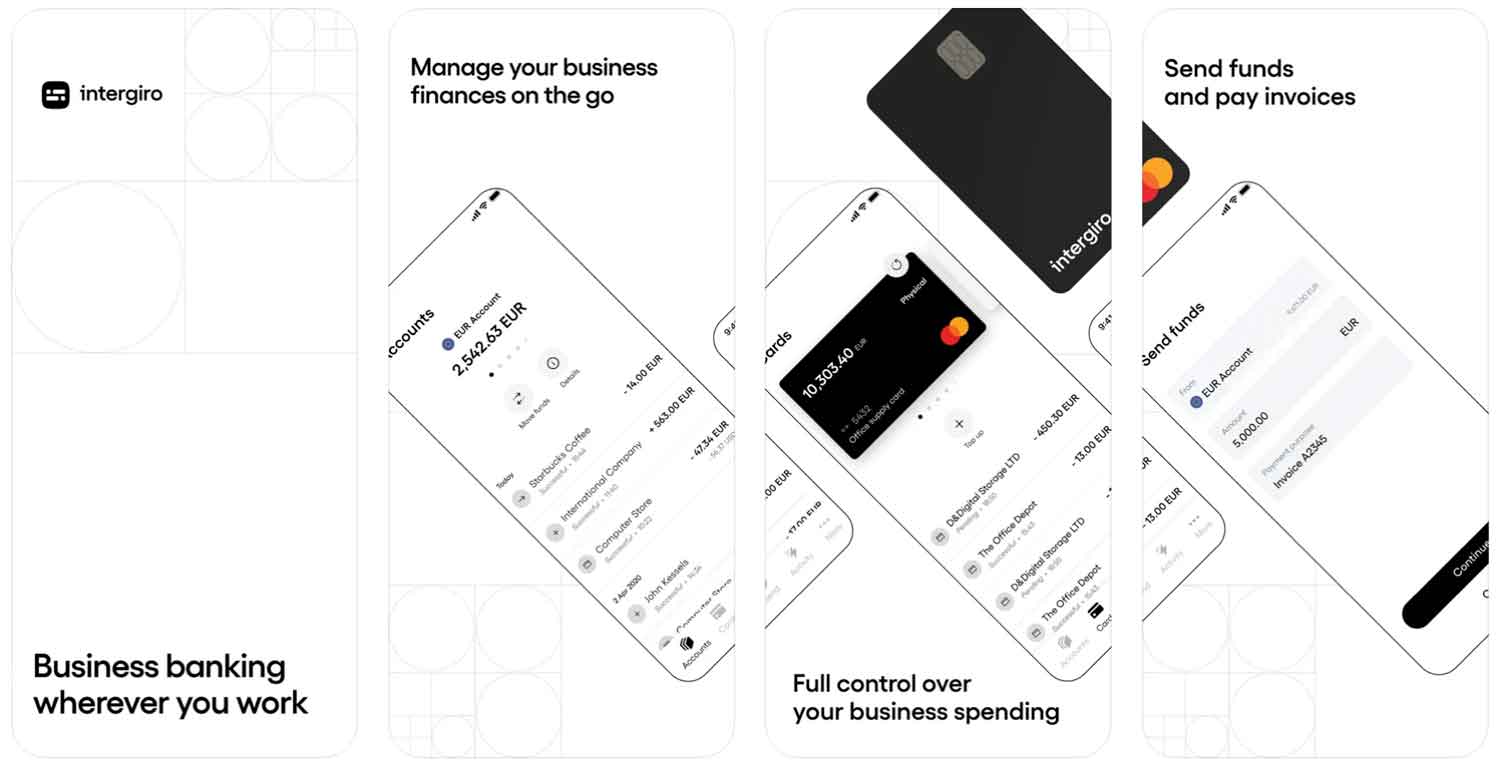 Business current accounts
If you qualify for an Intergiro business account, you will be able to hold funds in £, €, or $, as well as Australian dollars, Swedish krone, Danish krone, and Polish złoty. Alas, as we have discussed, this is all a moot point if you are based in the UK as Intergiro is not available outside the EEA.
If you do manage to get an Intergiro account, the pricing begins at €19 per month. This account will entitle you to online customer support and a prepaid expense card attached to your balance(s.) You'll also be entitled to 25 free outgoing transfers in € (capped at €10,000) before paying a 0.1% fee (minimum of €1), while you'll pay €2 for every outbound transaction in one of Intergiro's seven other main currencies, or €20 for any transfer to a different territory.
If you're prepared to pay €49 per month you'll enjoy unlimited free € transactions, and all other expenses will be halved – €10 for a third-party currency transaction, and €1 for an Intergiro-supported currency.
An Intergiro account is a full-service business toolkit, so it does more than just send and receive funds- you can also raise invoices and track expenses within the app. However, as Intergiro is not a UK-based service, your money will not be protected by the FSCS.
Business overdrafts
✗ Not available through Intergiro. See best business overdrafts.
Business savings accounts
✗ Not available through Intergiro. See best business savings accounts.
Intergiro at a glance
| | |
| --- | --- |
| Phone number | +46 72 501 8299 |
| App downloads | iOS; Android |
| Website | www.intergiro.com/business-banking |
| Number of branches | N/A |
| FSCS protected? | No |
| Founded | 2014 |
Key information
Other business finance products
✗ Intergiro does not offer any additional financial products. See business loans or asset finance.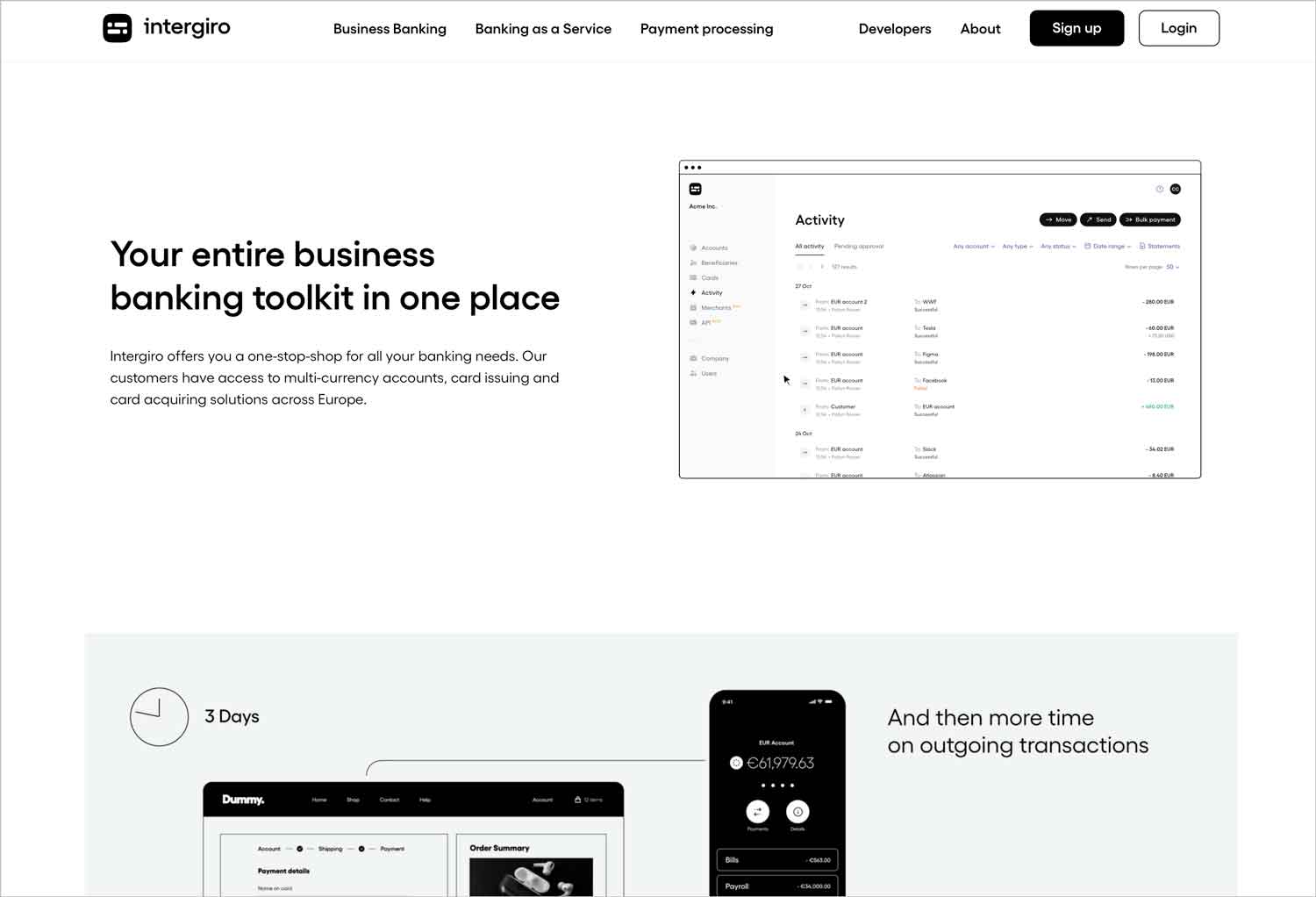 Intergiro reviews
What are other business banking customers saying about Intergiro?
| Review platform | Score | Number of reviews |
| --- | --- | --- |
| TrustPilot | 4.6/5 | 146 |
| Feefo | Not reviewed | N/A |
| Smart Money People | Not reviewed | N/A |
| Which? | Not reviewed | N/A |
| Average score | 4.6/5 | 146 |
Intergiro reviews and ratings
Intergiro business eligibility criteria
Intergiro is not open to account applications from outside the EEA, so a UK-registered sole trader or SME owner will not be eligible to apply. If you have a trading address outside the EEA, you will need to satisfy Intergiro's ID checks and prove that your business model does not operate within any sector banned in Sweden.
Intergiro business finance alternatives
Like Intergiro, direct competitors such as Bunq and Holvi are not available in the UK, so pickings are a little slim. Silverbird is probably the closest alternative, or you could consider using Wise, Airwallex, or Revolut to handle international banking needs.
Intergiro additional considerations
Intergiro has a social conscience to match its sense of practicality, partnering with Retreeb to ensure that 33% of all revenue to assigned to corporate social responsibility causes.
FAQ
Is Intergiro a proper bank?
Intergiro is not a traditional bank, but it's an online financial service provider that offers many of the same services as a traditional bank. With Intergiro, customers can make payments to third parties, receive payments into their Intergiro account, and transfer money between accounts. They also offer secure storage of funds so that customers can use their money safely and securely. Intergiro also provides a variety of other financial services, including currency exchange, payment processing and overdraft protection.
How to open a Intergiro business account?
Opening a business account with Intergiro is fairly straightforward. First, you will need to create an account by filling out the registration form on their website. Once your application has been approved and you have received your login credentials, you can then start making payments or transfers.
What fees does Intergiro charge?
Intergiro charges a flat fee of €1.50 per transaction made with their services, as well as 0.2% to 0.3% on international payments depending on the currency received or sent. Additionally, they may charge a one-time setup fee and any other applicable fees associated with the specific service requested.
What services does Intergiro offer for businesses?
Intergiro provides a range of services for businesses and financial institutions, including international money transfers, foreign exchange transactions, payment processing, corporate bank accounts, compliance and risk management solutions.
What types of payments does Intergiro accept?
Intergiro accepts payments from all major debit and credit cards, as well as other payment methods such as PayPal, Skrill, Apple Pay and Google Pay. Additionally, Intergiro also supports direct bank transfers in various countries.